Account List
Account List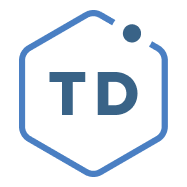 By Mary Cooper
updated about 1 month ago
Goodbye, desktop Excel; hello, cloud-based account list! On TaxDome, an organized and filterable account list helps you keep all your clients at your fingertips. But that's not all: Our integrated account list lets you quickly glimpse all essential matters related to each client, such as documents, bills, tasks, communications, and more.
Covered here:
Account List Overview
Clients are always the greatest asset of any business. We know it's crucial for you to be able to easily keep track of yours in order to provide them with the best possible experience. To get an overall picture of all of your accounts, click on Clients in the left sidebar, and then check out what's happening with your clients on the All Accounts page.
The list of all accounts is available for the firm owner as well as for the team members who has granted the View all accounts permission. Otherwise, team members can view only the ones assigned to them.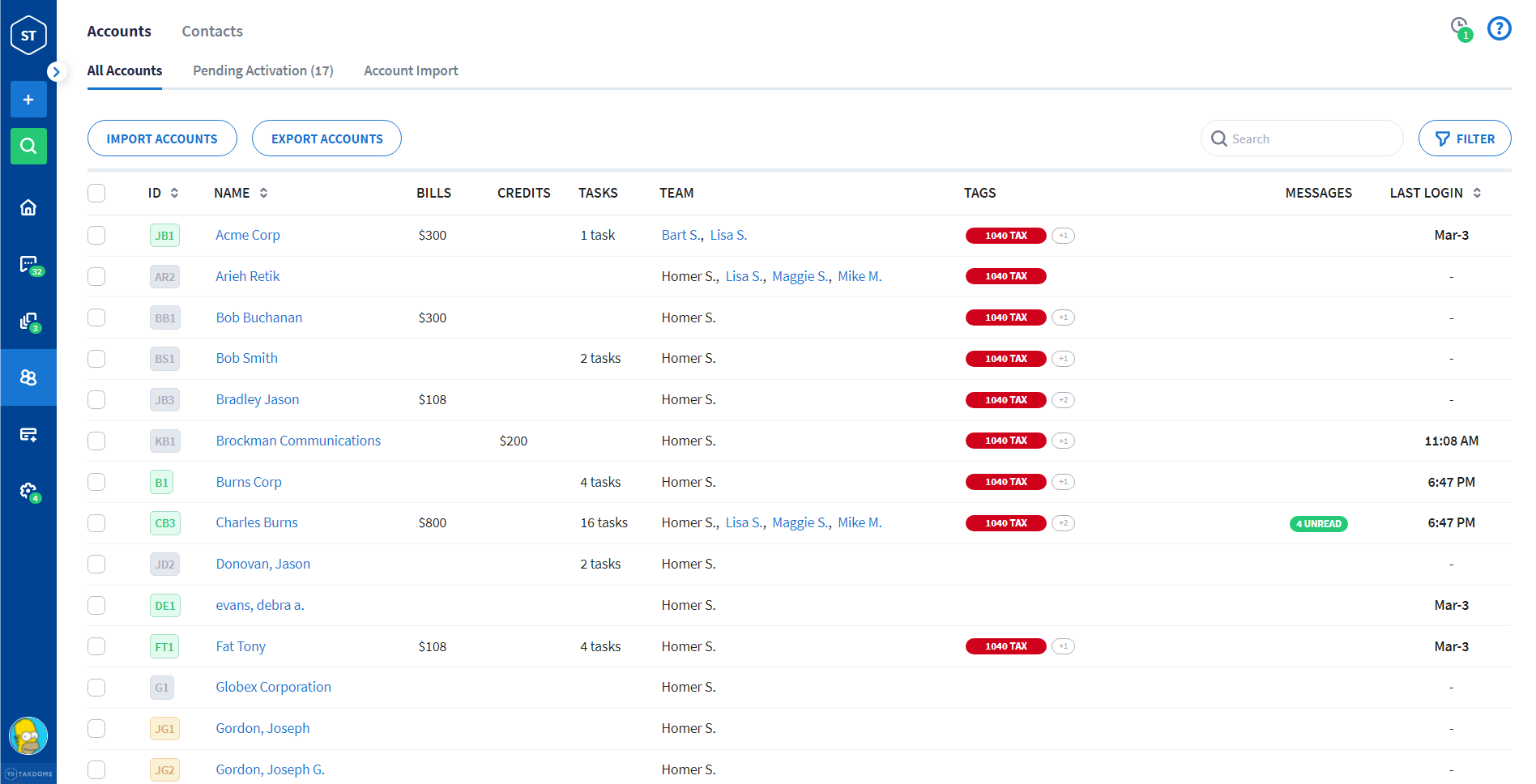 Here, you will find this essential info about each account:
ID: Each client has a unique ID. See All About Client IDs in the last section below to learn more about these.
Name: The client's first and last name or the name of the organization.
Bills: The total amount of bills the client has received since they began using your firm.
Credits: Amount of money available that can be applied to the client's upcoming bills.
Tasks: The number of tasks pending for the client.
Team: The team member(s) of your firm assigned to the client.
Messages: Number of unresolved messages sent to the client. An unread or a pending status is indicated.
Last Login: The date/time the client last logged in to TaxDome. If the account has multiple user profiles, this shows the login date/time of the of the user who was the last one to log in.
By default, the account list will be set at 25 accounts per page. If you want it to be more, you can choose to view 50, 100, or 250 clients at once instead. To change the amount, select the number you'd prefer in the Rows per page menu at the bottom left of the page.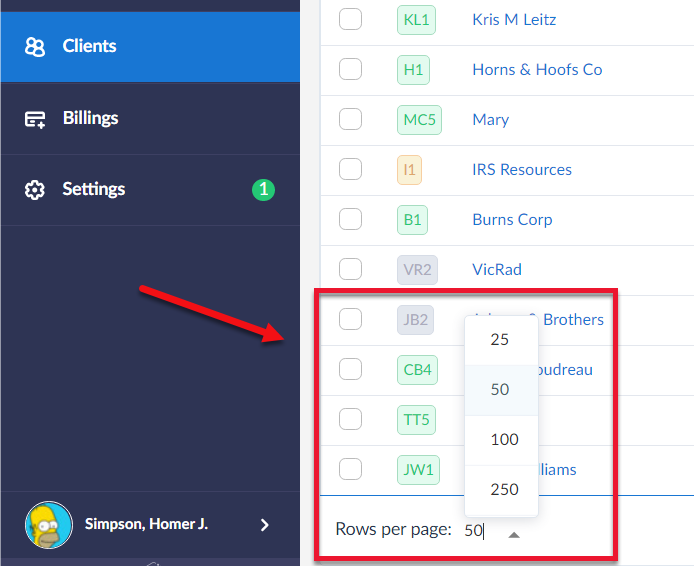 Searching for an Account
To search for an account, type their first name, last name, or email in the search field at the top right of the page, then press Enter on your keyboard. The account list will then be narrowed according to what you entered.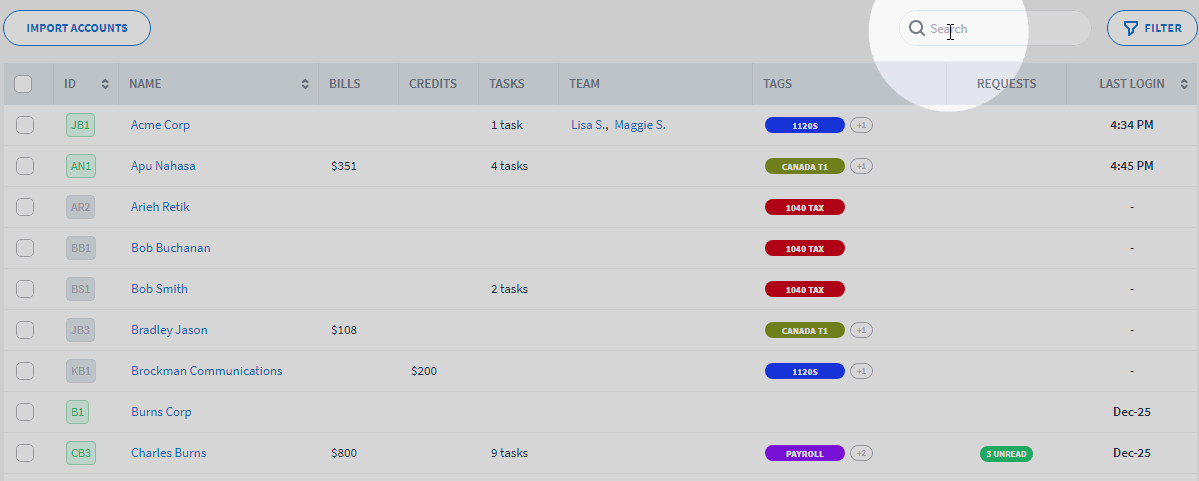 Note: You can also find a client by using the search button at the top of your left sidebar.
Filtering an Account List
Filters are especially useful when you need to shift through a long list of clients in order to find accounts that belong to a particular group, or subtype. For example, you can quickly find all clients who are managed by a team member, have never logged in, have overdue bills or tasks, or have documents that need to be approved.
To filter your account list down to a particular group, or subtype, follow these steps:
1. Click on the FILTER button at the far right of the menu bar for your All Accounts page.
2. You will then be given a menu of options to filter the account list. You can use as few or as many filters as you like. You get to choose from these:
Team: Select the name of the team member(s) assigned to the client(s).
Pipelines: Select the pipeline name to see only the clients that are in it.
Bills: Select All, Pending, or Overdue.
Messages: Select All, In Progress, or Resolved.
Tasks: Select All or Overdue.
Tags: Select the name of the tag(s).
Last Login date: Select All, This Week, This Month, This Year, or Never.
Approvals: Select All or Pending.
3. Once you are done making your selections, click APPLY.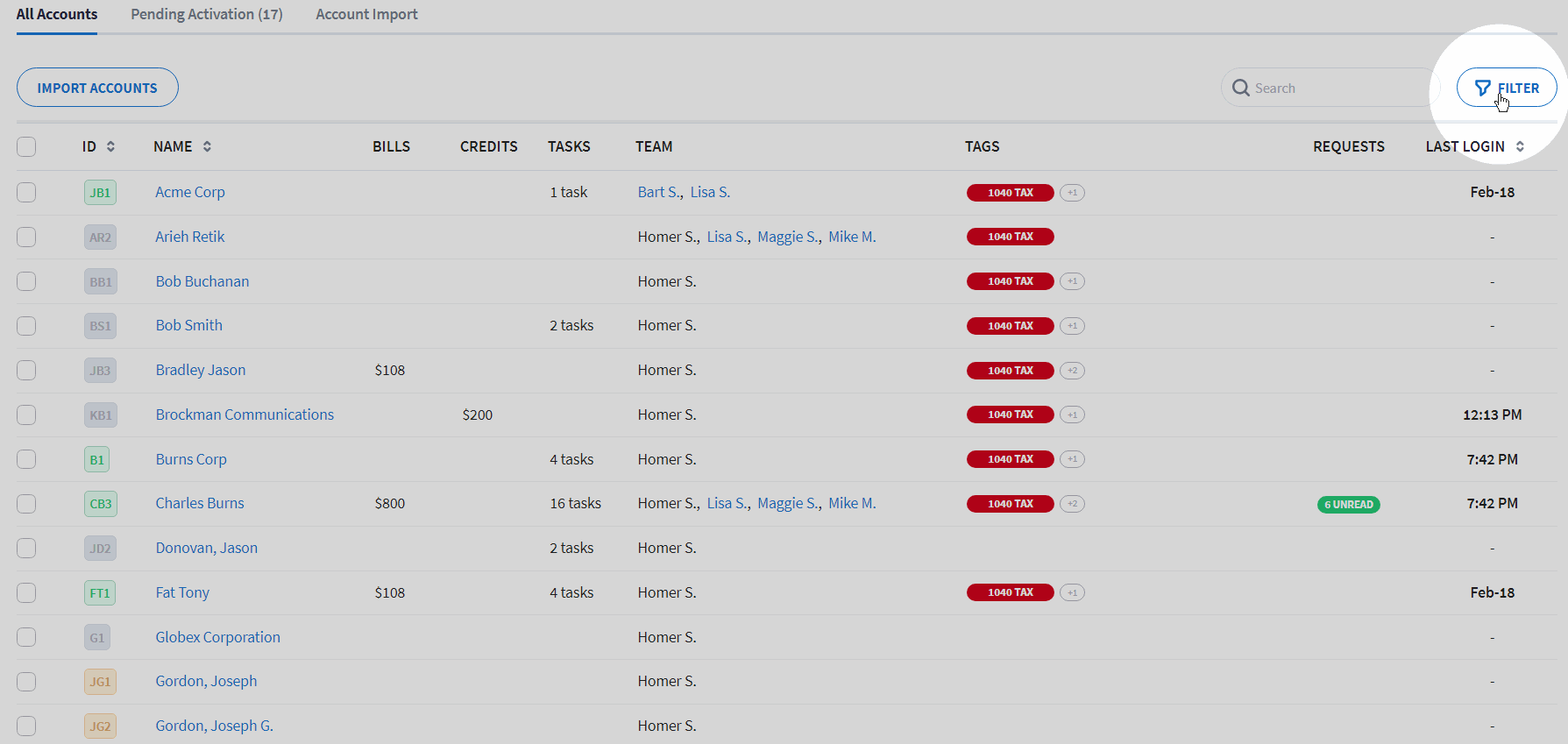 The account list will then be narrowed according to the filters you applied. You can change the filters by clicking the RESET button to clear all and start fresh.
You can also quickly filter an account list by clicking on a particular tag. Click on any tag in the TAGS column to see all clients who have been given that tag.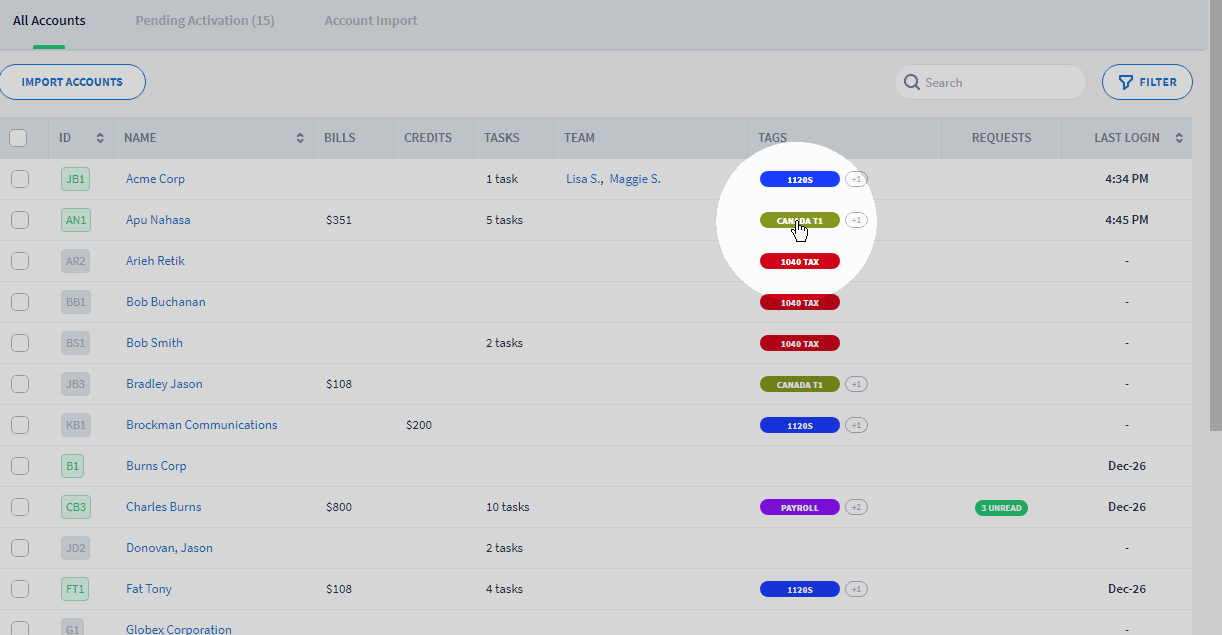 Sorting an Account List
There will be times when you'll find it useful to sort a list of clients rather than apply filters. And, of course, you can also use the sorting option after a client search or once you've applied filters:
Click the up-down arrow icon next to the header of the column you want to sort. You can sort the client ID and NAME columns to be alphabetical (from A to Z or Z to A) and the LAST LOGIN column to be chronological (from newest to oldest or oldest to newest). Accounts are sorted by first name of the client or by name of the organization.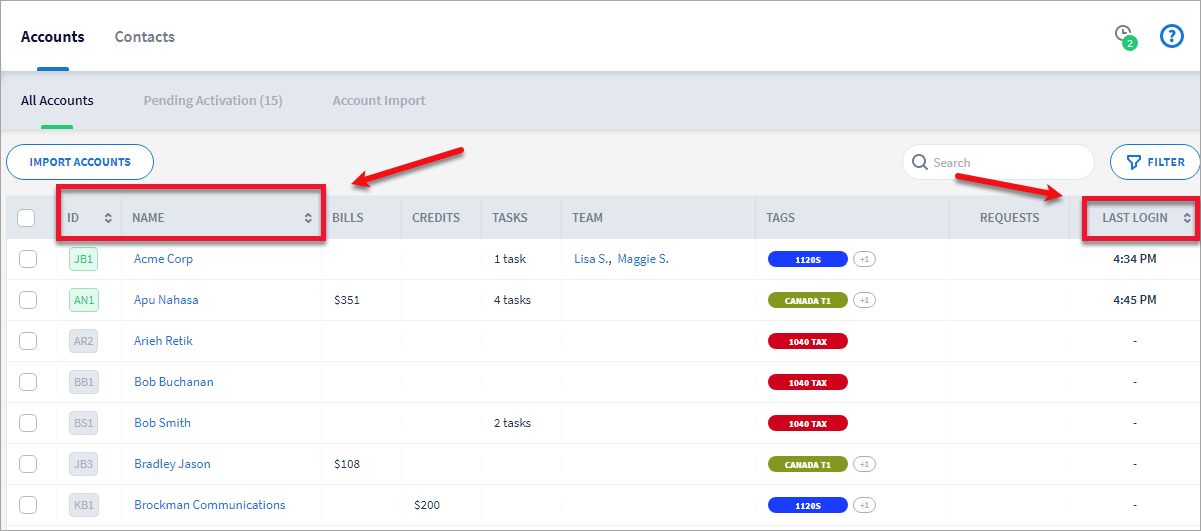 Exporting an Account List
You can export your Account list to CSV. To do so, click on the EXPORT ACCOUNTS button, then save a CSV file to your computer.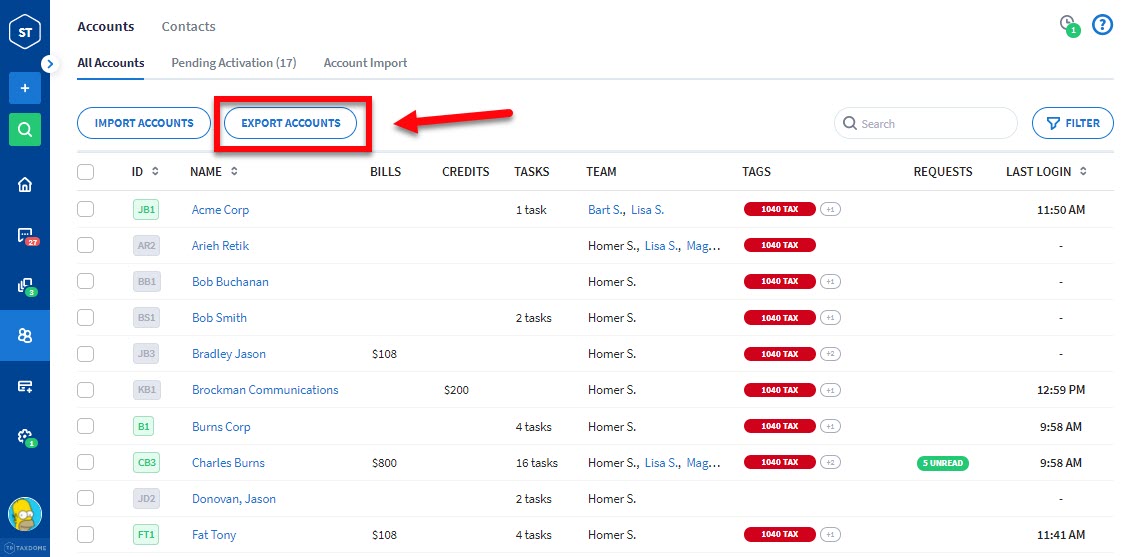 All About Client IDs
When you add a client to TaxDome, their account is automatically assigned a unique ID code: a combination of one or two letters followed by a number, such as V1, WW1, or JG2. The IDs of your various account can be seen in the ID column of an account list.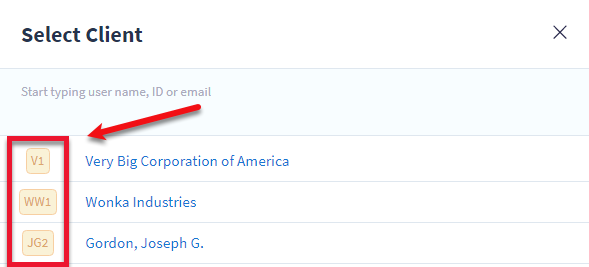 You can use an ID to search for a client.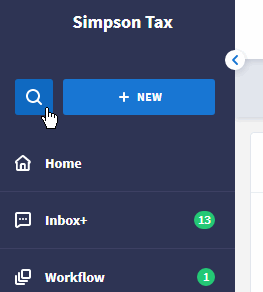 IDs can help you to easily find a specific account, and they are particularly useful when you have several clients who share the same name. For example, one family may have separate accounts for Mike Smith (father),Michael J Smith (son), Mike & Mary Smith (parents), Mike Smith & Sons (family business), and Mike Smith Partnership. How confusing is that?
These short, unique client IDs allow you to tell your accounts apart and also help you avoid any risk of confusion.
Client IDs are automatically generated when a client's account is newly added to TaxDome.
Manually added accounts. The ID is the first letter of the account name + a number that makes the entire combination unique.
Imported personal accounts: The ID is the first letter of the client's first name + the first letter of their last name + a number that makes the entire combination unique.
Client IDs are color-coded, which makes it easy to identify a client's status:
Viewing Users Pending Activation and Resending Invitations
Once you've invited your client to use TaxDome client portal or the additional user was added to an existing account, TaxDome automatically sends the client an email requesting them to activate their account.
Note that this invitation to activate an account is not sent out to the client if that option was disabled while importing an account list or when creating an account manually with the Invite user to login toggle off.
Until the user activates their account and creates a password, their email will remain on the Pending Activation page. Go to Clients, then to the Pending Activation page to see which clients have not yet activated their accounts.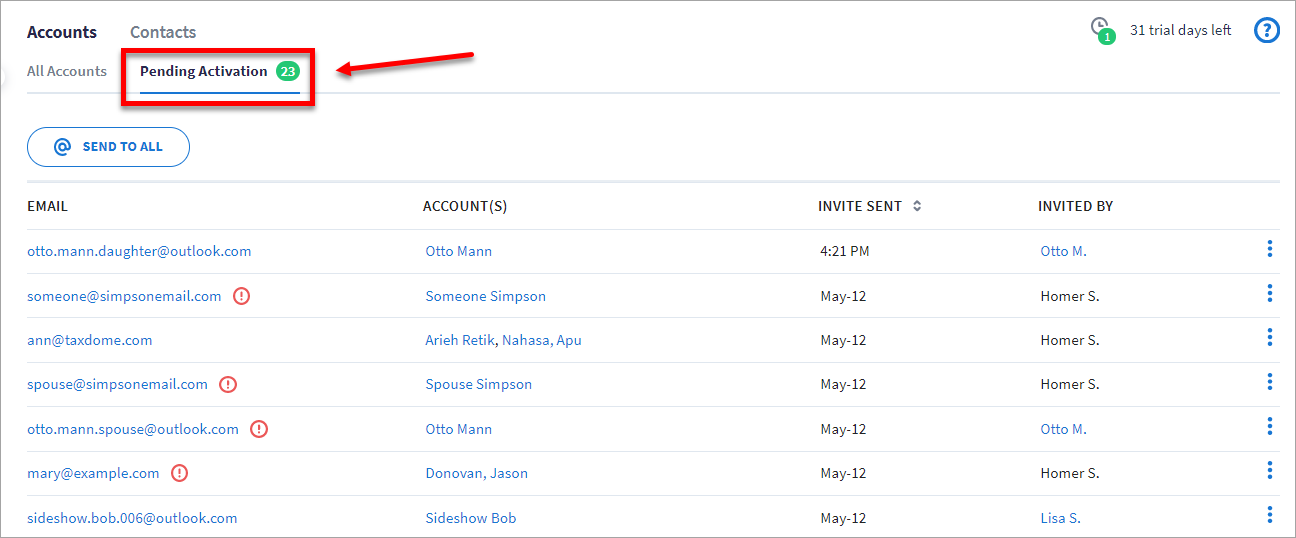 Here, you will find essential info about each user who haven't activated their account yet:
EMAIL: user's email. If email address is invalid, you'll see red exclamation point next to it.
ACCOUNT(S): account to which a user was added. If the user's has access to several accounts, all of them will be displayed here.
INVITE SENT: the date the invitation to activate went out. Click on the up-down arrow icons next to INVITE SENT in the header bar to sort the list by this date.
INVITED BY: the name of the person (either team member or the client) who has added the user.
If a user has been on the Pending Activation page for a long time, you can resend an invitation to them. Or if you disabled the option to send out an invitation to activate an account while importing an account list, you can send one out at any time. Here's how:
1. Go to Clients, then to the Pending Activation page.
2. Click on the three dots icon to the far right of the user's email, then click on Send invite.


To resend invitations to all users who haven't activated their accounts yet, click SEND TO ALL in the header bar.

Did this answer your question?