Creating Tasks
Creating Tasks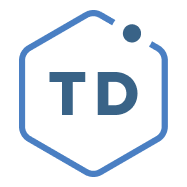 By Mary Cooper
updated about 20 hours ago
Keeping track of your to-do list is crucial to the success of any tax practice. The Tasks feature comes in handy for keeping your work on track, designating duties to team members, and ensuring that everyone, including yourself, stays focused. It allows you to follow who's doing what and what's next on your daily to-do list.

Covered here:


Creating a Task
You have three options for how to create tasks:
Automatically after a certain action takes place. This is done with automated actions. See details in a separate article.
From email. This is done from your Inbox+ page by clicking on Create task link. See details in a separate article.
Manually (see below).
A task can be manually created either by you or any team member with granted access rights. Follow these steps:
1. Click the +NEW button on the left sidebar, select Task in the pull-down menu.
Alternatively, go to Clients, then select the checkboxes next to the relevant client accounts, then click on the CREATE TASK button.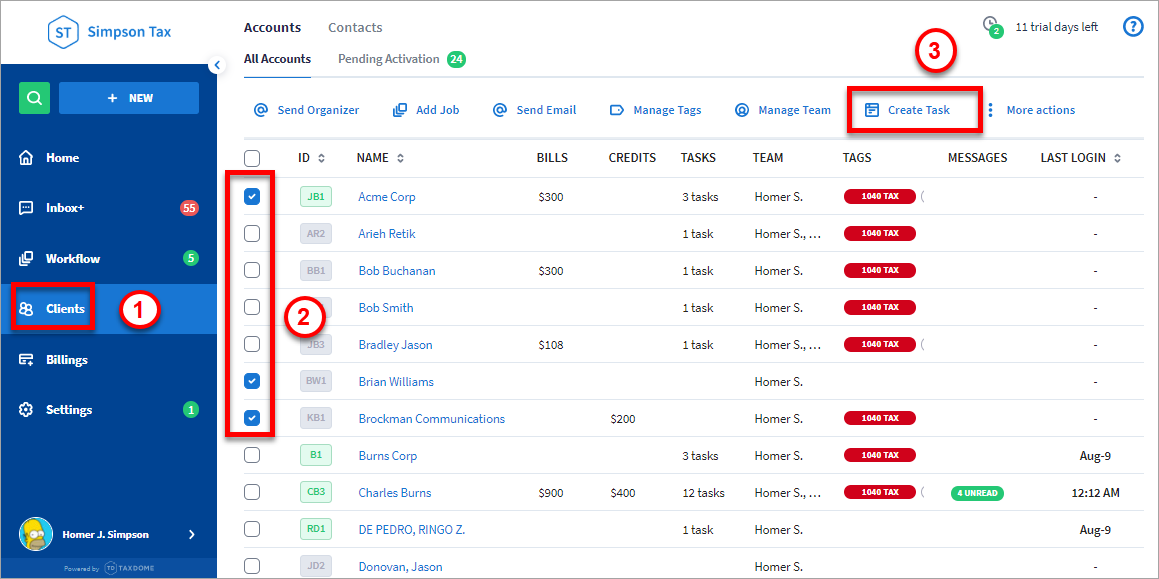 2. Select the client(s). You'll see a list of your most recent client accounts. If the client you are looking for doesn't appear, enter their name, ID, or email address in the search field. You can add several clients or leave the Client field empty, if your task doesn't refer to a specific client account.
3. Click the Template list to populate your task with one of the previously saved templates (read more about task templates here) or proceed without it.
4. Choose the name of the team member you want to assign the task to. You can also select several if the project requires more than one team member. When you assign a task, it is automatically shared with the team member or members.
5. Enter the name of the task (e.g., Prepare 1040) in the required field.
6. Set the task priority: LOW, HIGH, MEDIUM, or URGENT. The default priority is MEDIUM.
7. Set the task status. Statuses help you keep track of what stage a task is in. Once the task is completed, you or the team member responsible can change the status to COMPLETED.
8. Enter the task description (optional) to define it. You can apply formatting, add bullets or numbered lists to the description.
TIP You can use the description to document current progress and open items. Thus, when you will open the task list you can easily see the status of all your tasks.
9. Add tags to your task. These help categorize your tasks and sort out unnecessary information. You can use here all tags created in the system.
10. Set a start and due date for the task. It's OK if you want to skip this part. Setting dates is optional but can act as a helpful time-management tool for both you and your team. Plus, you'll receive a reminder email—acting as a gentle nudge—two days before the task's due date.
11. Click CREATE TASK button.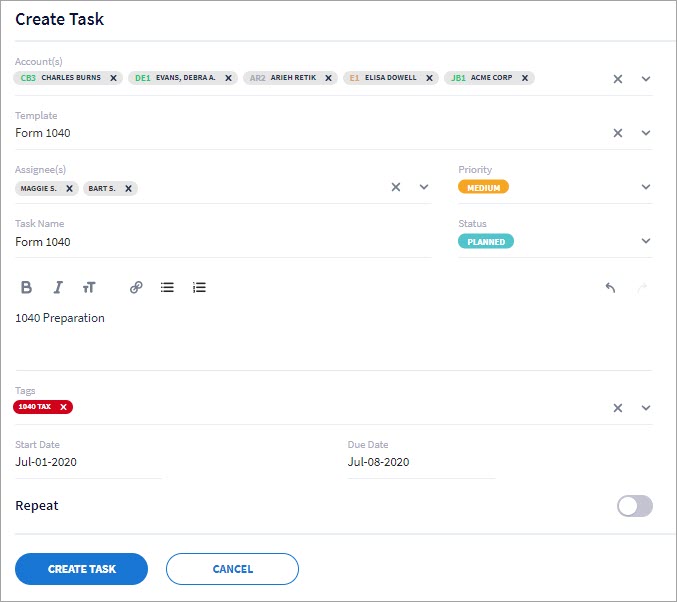 Creating a Subtask (or Things to Do)
Each task can have subtasks. Think of these as to-do items on a checklist, which need to be performed in order for the overall task to be completed. You can add subtasks, or to-do items, while creating or editing a task.
Once you turn on the Subtasks option, a checkbox will appear below with Things to do beside it. Fill in the name of the subtask, or the to-do item.

Click Add subtask to create more items on this checklist.

Click CREATE TASK or SAVE to save your changes.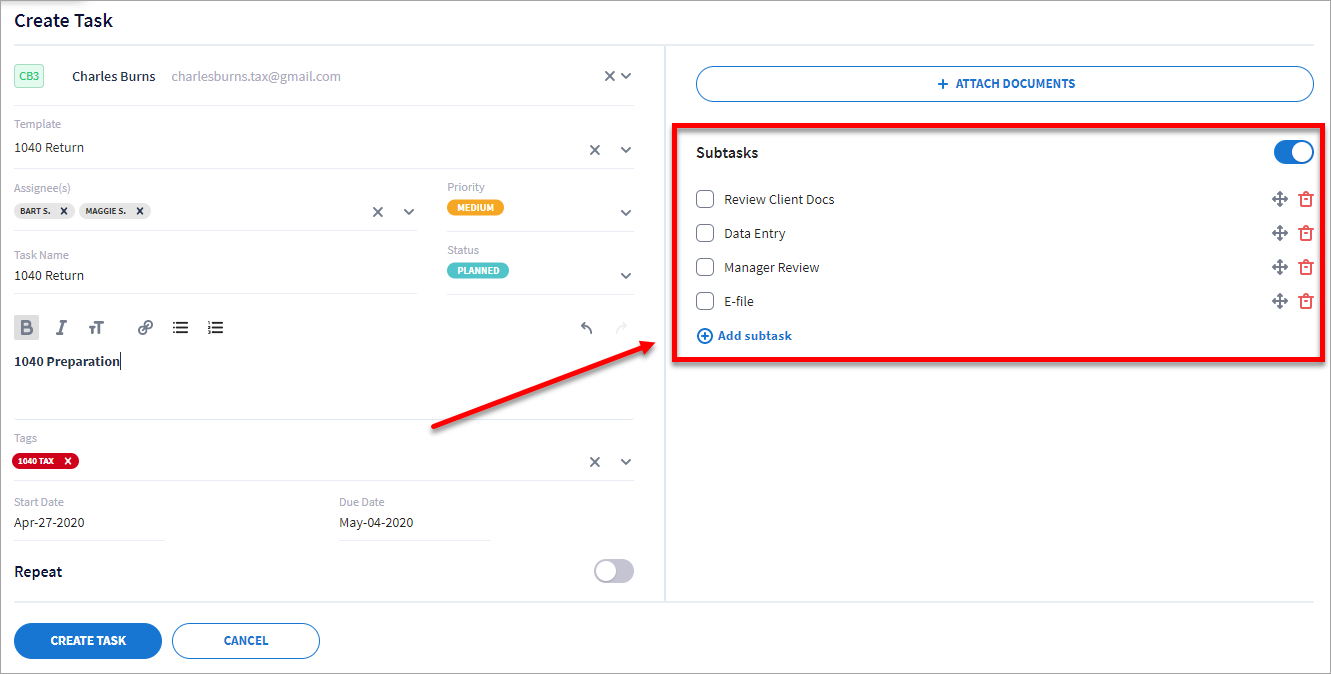 Once a subtask is completed, you can check the box beside it to mark it as done.
Click on the three dots in any tasks list, then click Edit, or click on the task name on the dashboard
Click on the checkbox next to the subtask, then click SAVE to save your changes.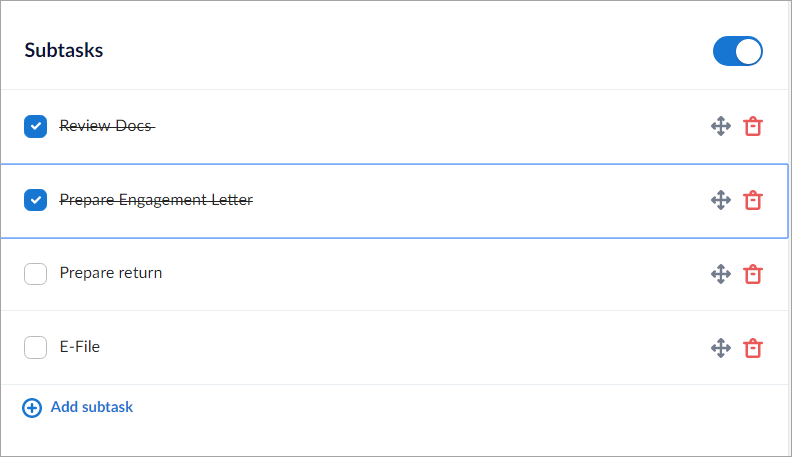 You can see the number of completed subtasks and the total number of subtasks in your tasks list.

Creating a Recurring Task
Recurring tasks are ones that repeat at regular intervals. These can be useful when, say, you need a reminder to make a weekly phone call to a client, check the regular mail once every three days, or prepare tax forms for certain clients annually.
When you create a recurring task, such attributes are copied from the first task:
The client to whom it is assigned
Title
Description
Tags
History
Assignees
Subtasks (all checkboxes in a recurred task are always cleared when it is created)
Repeat schedule (if the number of occurences is set, it is reduced by one)
Note that status and attachments are not copied from the first task.
Setting up a recurring task is no different from creating a regular one, except that you turn on the Repeat option by turning on the toggle. Once you do that, you will be able to create a task schedule.
1. Select how often you want the task to repeat. By default, a task is repeated once a week. It can be repeated every x amount of days, weeks, months, or years.
2. Decide when you want a task to expire. You can select a specific date or the number of times you wish it to recur.
Once a recurring task is set, you will see its start date and due date as well as the number of recurring tasks in your queue.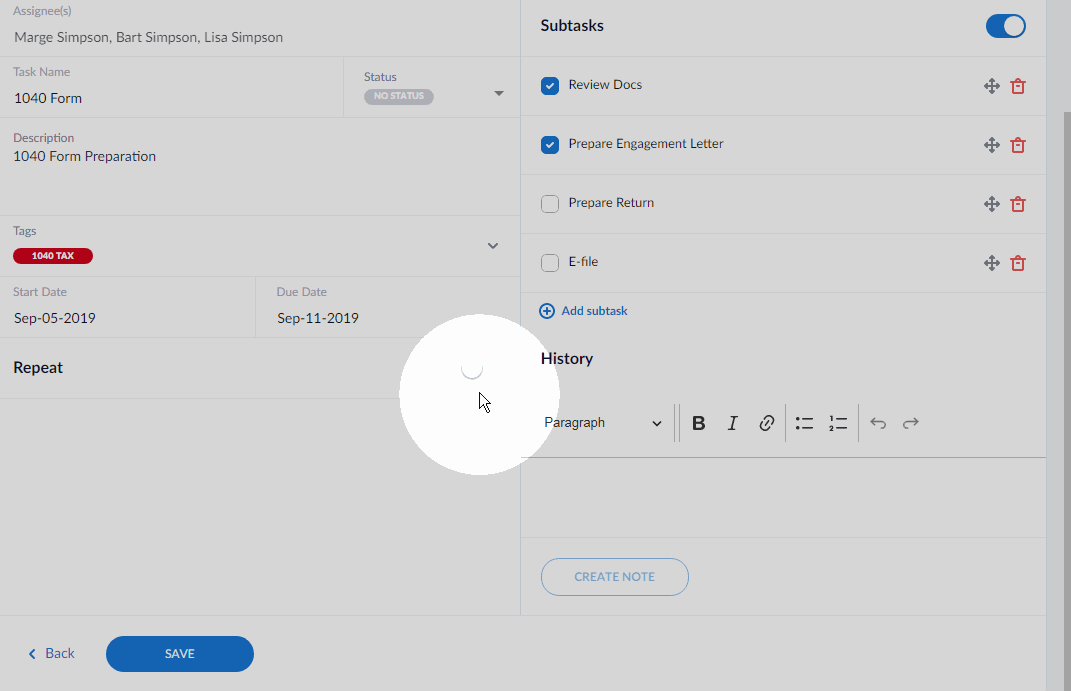 You will also be able to identify which tasks will recur by the clock icon next to their names in the TASK NAME list.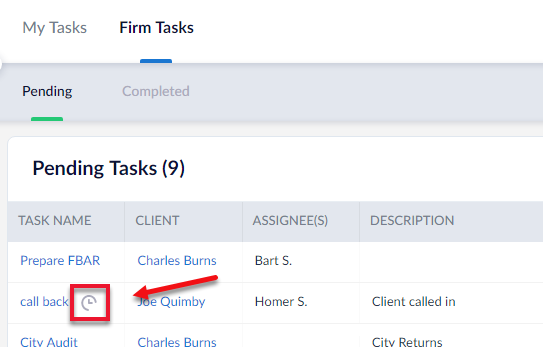 Adding Files
You can attach files to your tasks if your task assigned for one account or if your task doesn't refer to a specific client account. The ATTACH DOCUMENTS button is disabled if you have two or more clients assigned.
To add files from your computer, click ATTACH DOCUMENTS, select the From My Computer option, then locate the file you want to upload. You can upload PDFs, Word files, Excel files, and images. See the Uploading Documents help article for more details. The files attached to tasks are saved to the selected year under the of Docs tab inside the Private subtab.
To add files from TaxDome, click ATTACH DOCUMENTS, select the From TaxDome option, then click the year and select the file(s). You can add any of the files that are already uploaded to TaxDome.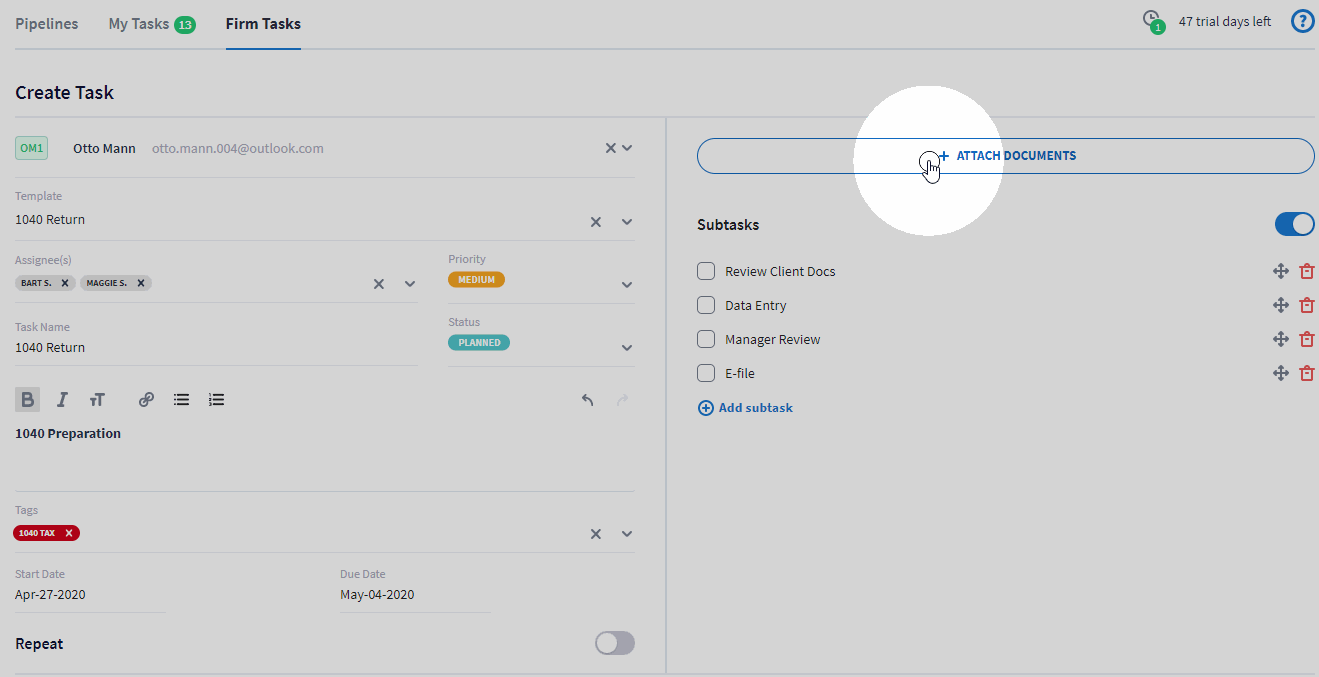 Did this answer your question?