Managing Tasks
Managing Tasks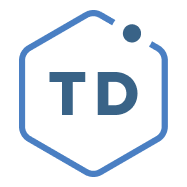 By Mary Cooper
updated 12 days ago
TaxDome features a unique and easy to use dashboard that displays all tasks currently in process for your practice. Instead of spending precious time trying to determine the order of tasks and deadlines to be accomplished, you can get to work.
Covered here:
Exploring Tasks
Once a task is created, it is displayed on your dashboard. Here, you'll see a list of your client accounts and all the tasks for each one, no matter who is responsible for completing them. This way, you are always aware of what each client's needs are and how the work for them is progressing.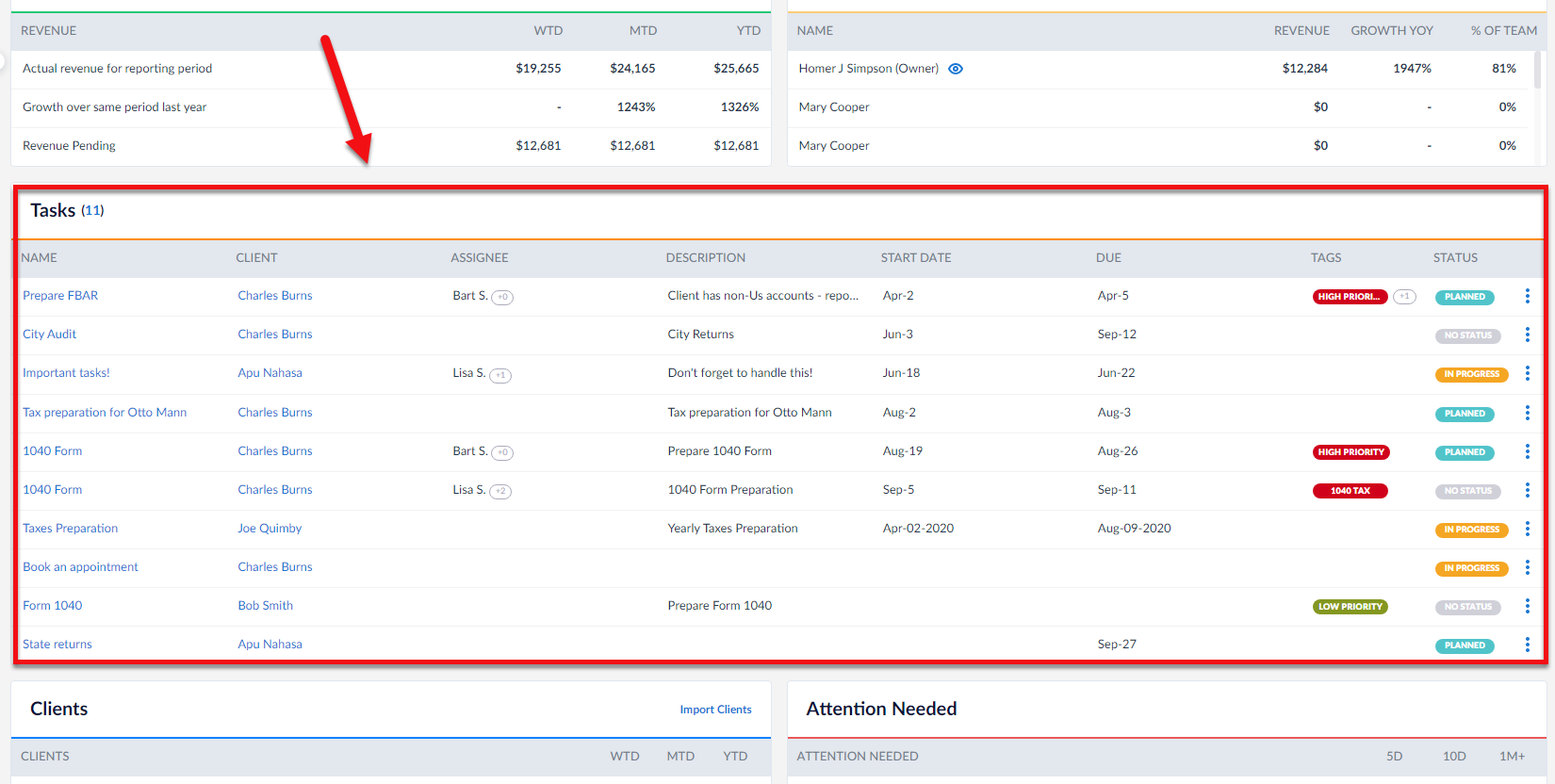 If your team member has assigned a task to you or there is a task assigned to you that is due in three days, you'll get a notification in your Inbox+. Click the task's name or the Go to... link to view it and make any changes needed.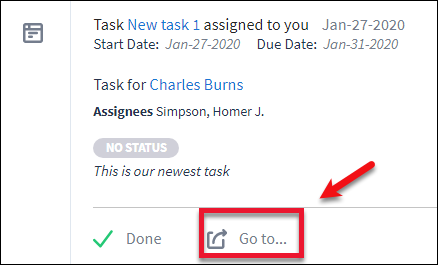 If any of your assigned tasks are pending, you'll also know by the small notification circle that will be green and displayed to the right of Workflow in your left sidebar. Then, if you browse to Workflow, you can explore both your own individual tasks as well as those for the entire firm. There are two tabs related to tasks:
My Tasks: This shows only the tasks specifically assigned to you.

Firm Tasks: This displays all of the tasks for the entire firm, whether the task has been assigned to you or another team member or members.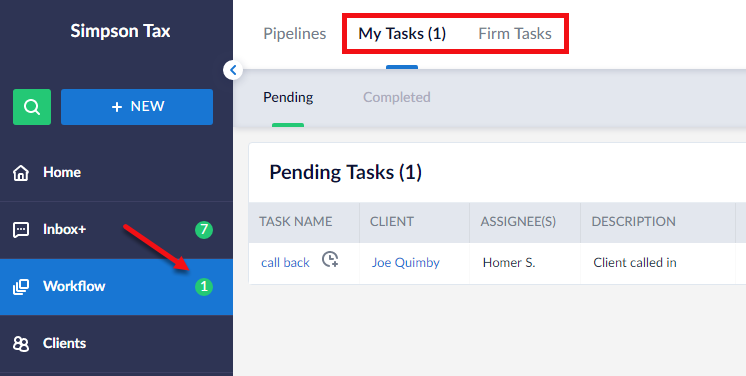 All the tasks that require work or that are scheduled as future to-dos are displayed inside the Pending subtab window.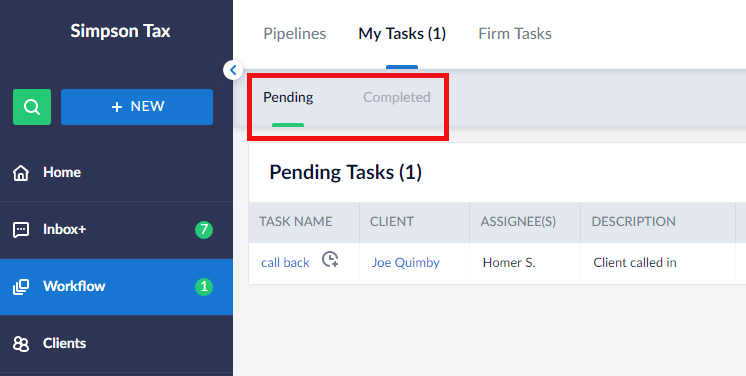 Once the task is done, you can click on its status and switch it to COMPLETED. Once the status of the task is changed, it is automatically moved to the Completed subtab window. Notifications for completed tasks are not shown on the sidebar.
Note: Completed tasks can be edited. You can always bring the task back to the Pending subtab window by changing its status back to PLANNED or IN PROGRESS.

You can also explore all of the tasks for a particular client account by navigating to Clients, clicking on their name, then going to Workflow. Navigate to Pending Tasks and Completed Tasks subtabs to see every task for that client account as well as its status, assigned tags, progress, start date, due date, and whether it has been assigned to you or another team member.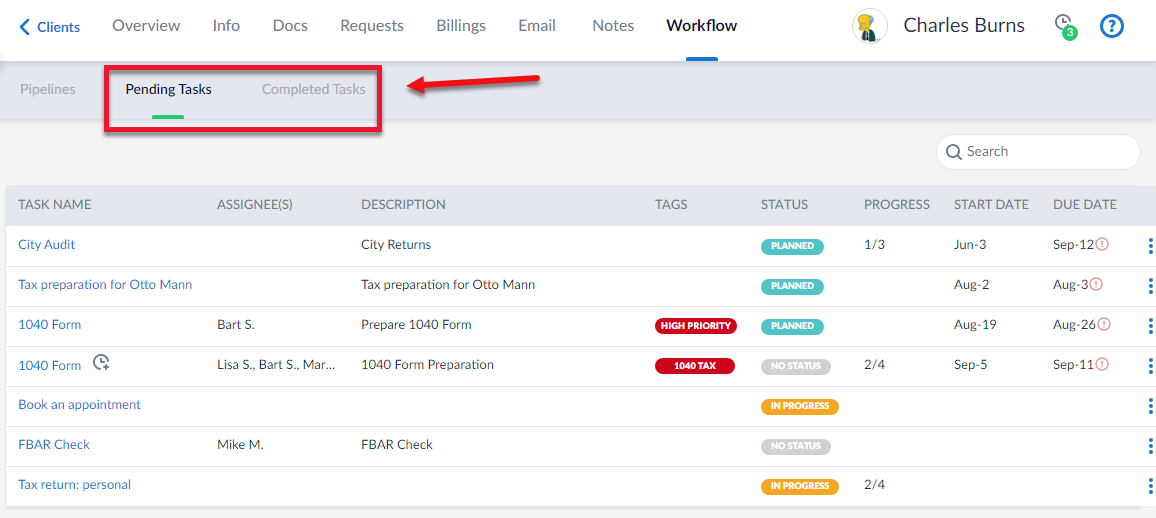 Tasks Lists Overview
In the tasks lists, you'll find the following headings for the various columns:

TASK NAME: The title you chose for a task. If a task is recurring, you will see clock icon next to its name.

CLIENT: The client account for whom the task was created (if any). You can click on the client account's name to instantly access their details. If you're viewing tasks from a client's details page, this column is not displayed.

ASSIGNEE(S): The name of the team member or members whom the task is assigned to.

DESCRIPTION: A brief description of the task, a note about it, or nothing at all if you initially left the description field blank.

START DATE: The date the task should begin being performed.

DUE DATE: The date the task should be completed—aka deadline. If the due date expires and the task status has not changed to COMPLETED, an exclamation point will be displayed beside it. This notification shows that it become overdue.

TAGS: Color-coded tags can be added to tasks to help categorize them and sort out unnecessary information.

PROGRESS: The first figure shows the number of completed subtasks while the second figure shows the total number of subtasks in a task.

STATUS: The current status of the task. Tasks are in either a PLANNED, IN PROGRESS, or COMPLETED status. However, if the task was never given a status, won't be any at all. To change the status of a task without editing the task itself, hover your mouse to this column to display all statuses, then select the one you want.

PRIORITY: Tasks are either LOW, HIGH, MEDIUM, or URGENT. Priority levels helps to decide which of the tasks should be performed first. To change the priority of a task without editing the task itself, hover your mouse to this column to display all priority levels, then select the one you want.


Viewing Client Accounts for Whom Tasks Are Overdue
You can filter your client account list so that it shows only the clients those tasks have become overdue because they were not completed on deadline. Follow these two steps:
Navigate to Clients, then click the FILTER button in the top right corner of the window.

Select Overdue in the Tasks column, then click APPLY.
You will see a list of all your client accounts for whom tasks have become overdue and how many remain to be done for each.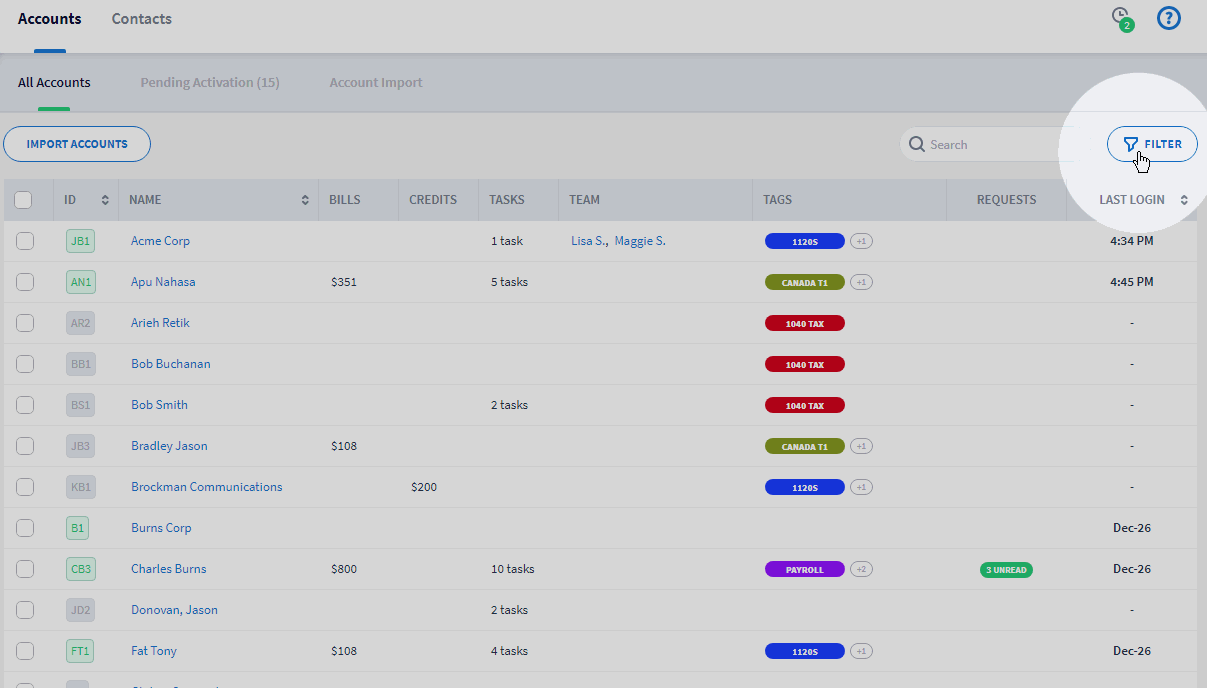 Searching Tasks
To search for tasks, type a keyword in the search field. The task list will be narrowed to the specified parameters. You can search by task name or description.

Filtering a List of Tasks
Filters are useful when you need to view tasks with specific criteria. For example, filtering allows you to quickly find all overdue tasks. There are seven ways you can filter tasks:
By assignee. See only the tasks assigned to a selected team member(s).

By account: See only the tasks related to a selected client's account.

By start date: See only the tasks for which the start date is set within the specific time frame.

By due date: See only the tasks for which the due date is set within the specific time frame.

By tags: See only the tasks with specific tags. For example, you can quickly find the clients that need Form 1040 or Form 5471 to be prepared.

By priority. See only the tasks that have a particular priority (LOW, HIGH, MEDIUM, or URGENT)

By status: See only the tasks that are planned, in progress, or that have no status yet.
To narrow a list of tasks to only the ones you wish to see:
1. Navigate to Workflow section, then either go to My Tasks or Firm Tasks.
2. Click the FILTER button in the top right corner of the window, select your desired filters, then click APPLY. You can apply two or more filters at a time.
Once the filters are applied, the list of tasks will reflect your specified parameters. You can clear filters by clicking the RESET button, then clicking APPLY.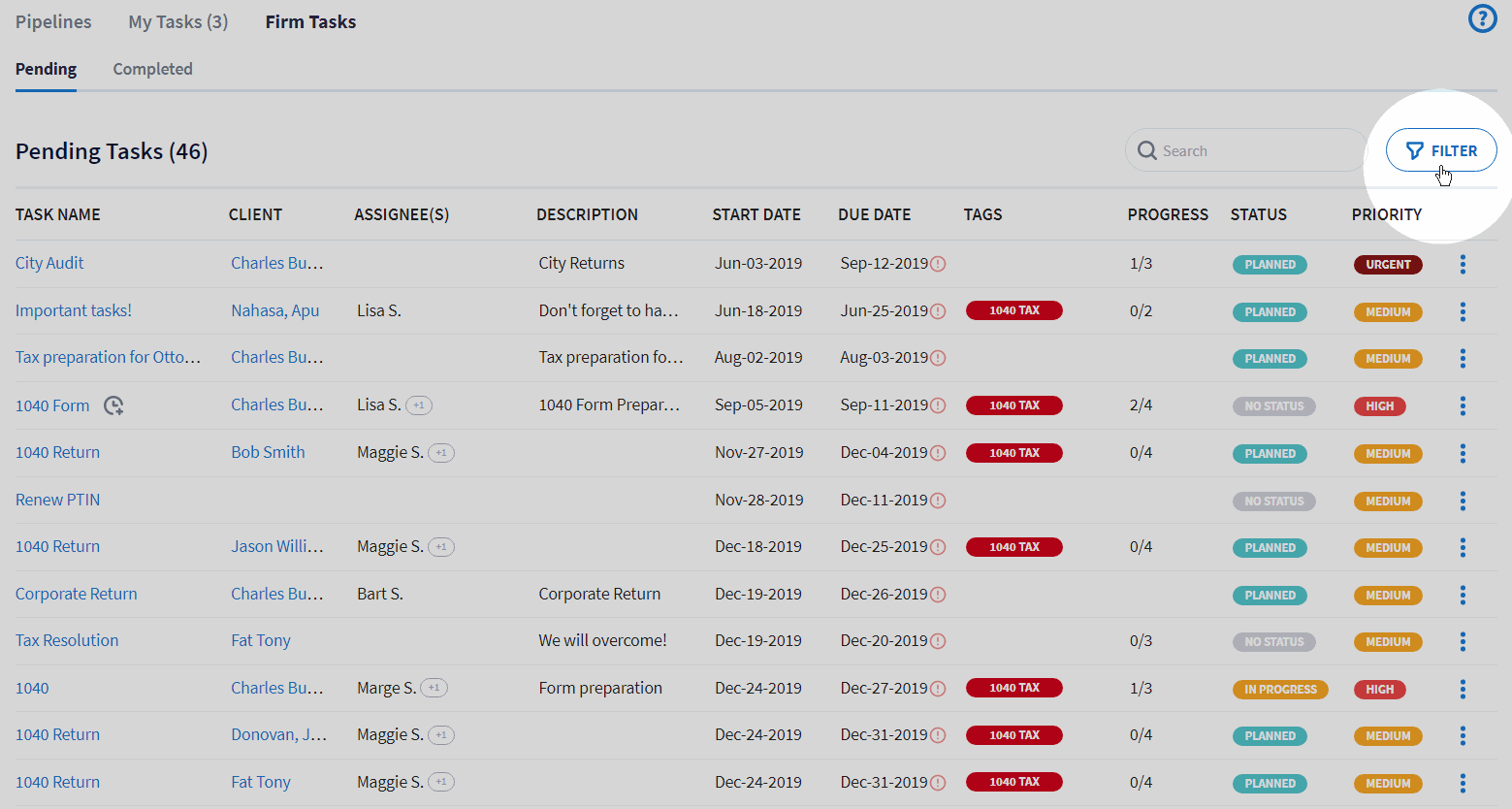 Sorting a List of Tasks
Sometimes, it's more useful to sort tasks rather than filter them. Although the sorting option can also be applied while filtering and searching.
You can sort tasks by name, start date, or due date. Click the arrow icon next to the appropriate column name to sort the list of tasks.

Making Changes to Tasks and Viewing its History
You may want to edit your tasks to change its status, to mark subtasks as done, to edit its description, etc. Besides, sometimes you will need to change a task that was created automatically.
There are three options to start making changes to your tasks:
Click on the task name on the dashboard.

Click on the three dots icon in any tasks list, then click Edit.

Bulk edit - select the task name(s) in any tasks list, then click Edit.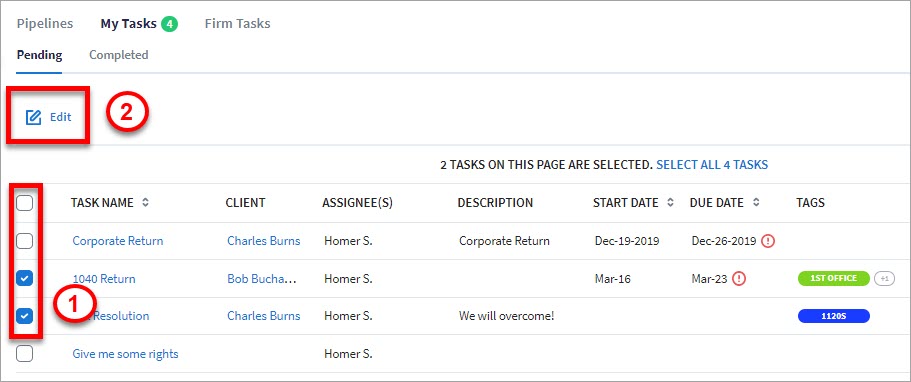 You can now make changes to the task, then click SAVE.
Note the following when bulk editing tasks:
You cannot attach or remove files
You cannot make changes to the subtasks
You cannot edit, delete or add notes
Data in all fields that haven't been changed in bulk mode, remains untouched.
Edit a single task if you need to make changes listed above.
All changes made to a task (e.g., adding subtasks, adding tags, changing status, changing start and due date, changing priority, etc.) are logged. Click the Audit Trail link to access it. You cannot edit or delete task history items.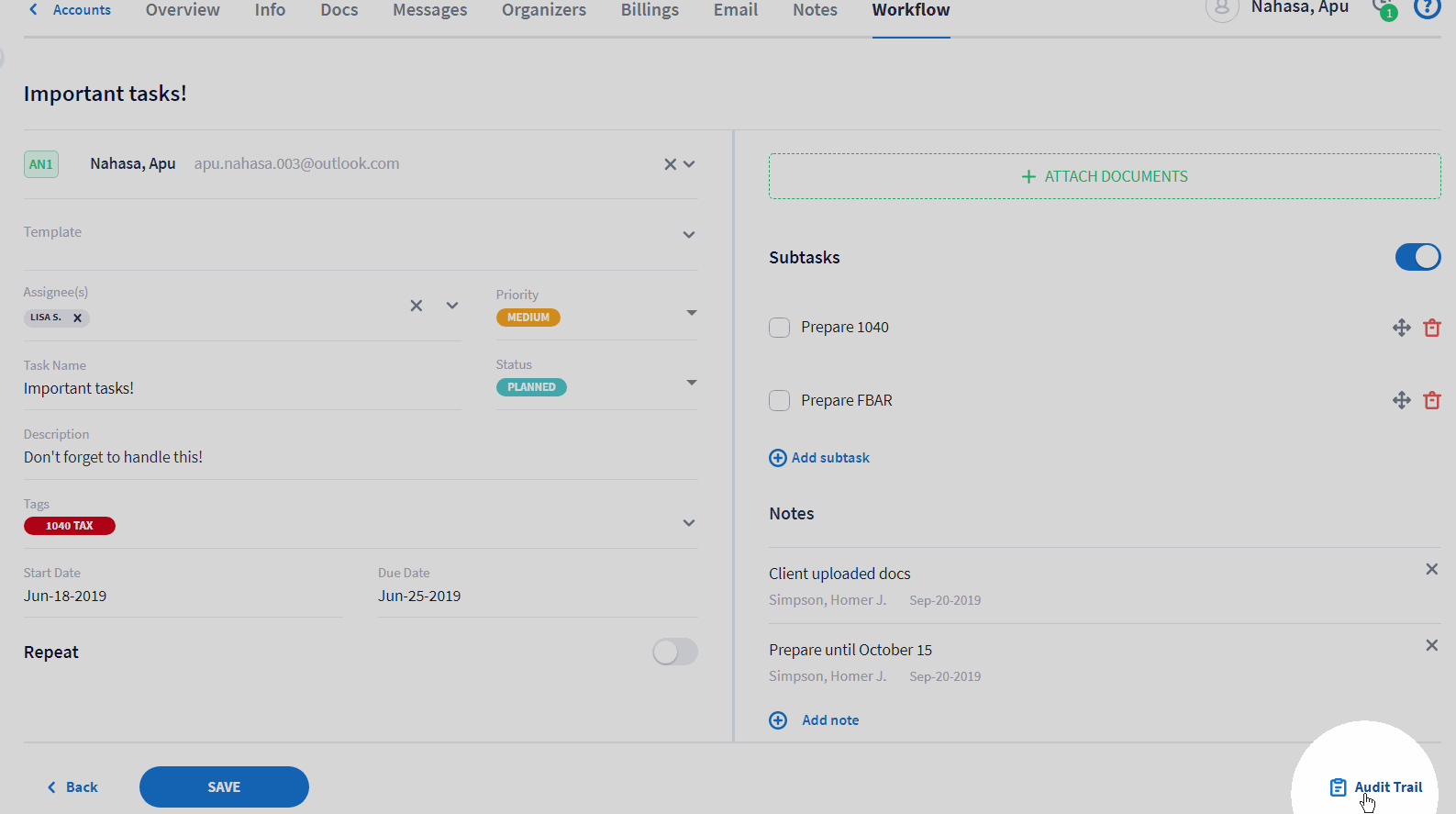 Using a Task's Notes
As you work on a task, you will most likely come across information that you will need to keep in mind once preparing the account's documents. You can store that kind of detail as internal notes inside your tasks. That way, all team members assigned to the task will also have access to such pertinent facts.
To add a note to a task:
1. Click on the task name or click on the three dots icon in any tasks list, then click Edit.
2. In the Notes section, click the Add note link, click on a text field, then begin typing.
3. Click SAVE to save your changes. Note is saved inside a task along with the date and the team member's name.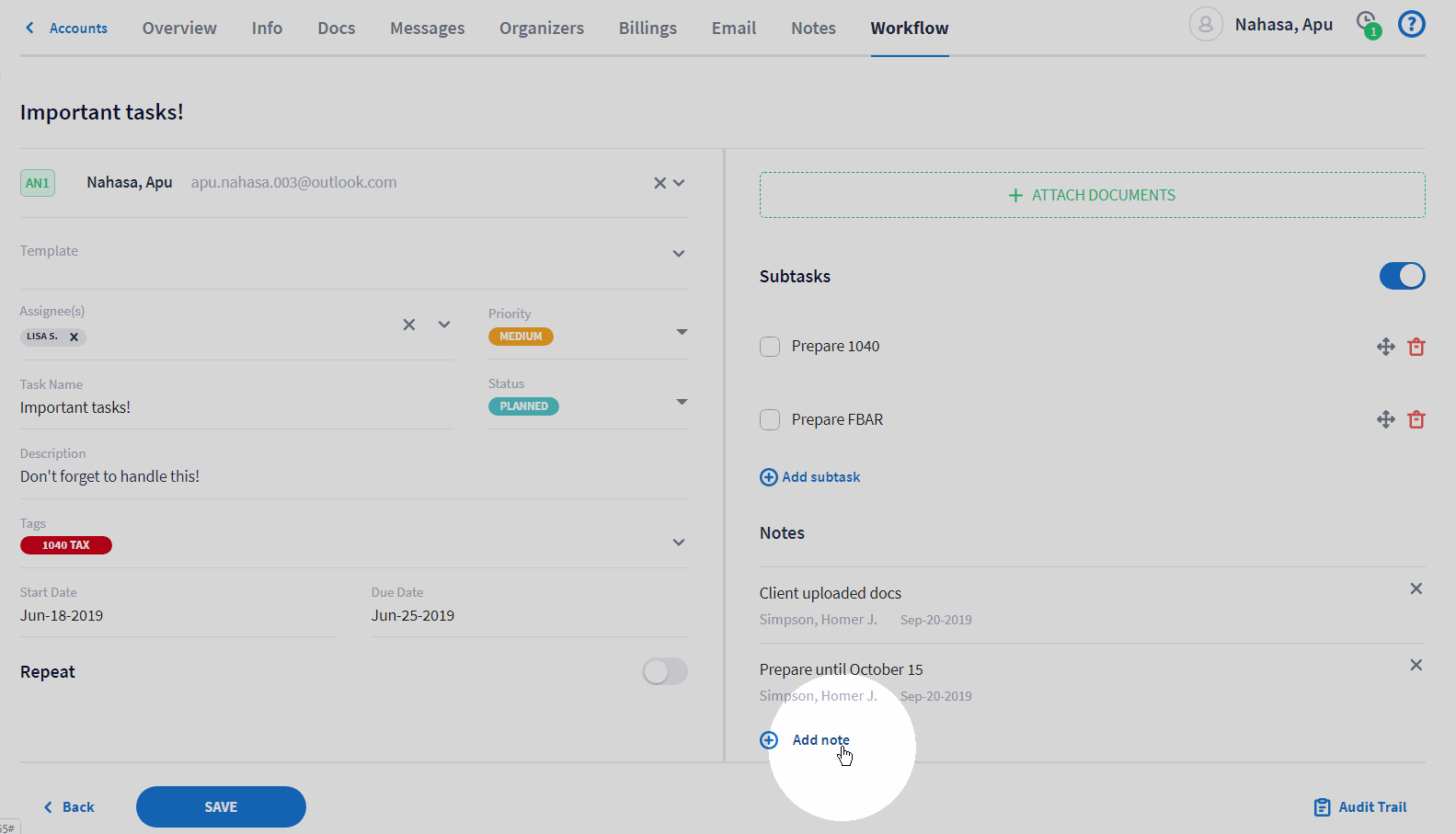 When the note is no longer relevant, click the x icon next to it to delete the note.

Deleting a Task
To remove a task completely, follow these steps:
Click the three dots icon, then click Delete.

Click the YES, DELETE button in the Task Delete Confirmation pop-up.

Did this answer your question?