Adding Client Accounts
Add your clients to TaxDome, either one by one or several at a time. Or they can register on their own by going to their TaxDome portal.
What do you need to know to get started? The main concept to keep in mind is that there are Accounts and Contacts on TaxDome; these two are not the same. Accounts are your main clients, whether a business or an individual. Contacts are all of the people you interact with. Еach client account on TaxDome has a corresponding contact or even several. And now that you know that, let's get started!
Covered here:
Creating Client Accounts
A firm owner or any team member who has been given access rights to manage accounts can create a new client account.
To create a new account on TaxDome, follow these steps:
1. Click the + NEW button in your left sidebar, then select Account from the slide-out menu.
2. Fill in the Account Name field, usually the client's first and last names or the company's name (if you're creating an account for a firm). This is what will be shown in your Accounts list.
3. Click the CREATE ACCOUNT button. And that's it!
Note: Don't use special characters that are forbidden in Windows directory names as Account Names (< (less than), > (greater than), : (colon), " (double quote), / (forward slash), \ (backslash), | (vertical bar or pipe), ? (question mark), * (asterisk)). Otherwise, you will not be able to access your files via the TaxDOme Drive.
Plus, you can also...
Adding Portal Access to Accounts
If you haven't added portal access to the account when they were created, you can do it later at any time:
1. Navigate to the Info tab of the client's profile (available once you've created the account).
2. If you've already linked the account to one or more contacts, you'll see the corresponding email addresses for those contacts in the Contacts section. Turn on the LOGIN toggle next to the email address of the person you want to give portal access to.
3. To add a custom message to your invite, type in the Personalized message field in the pop-up, then click SEND.
Note: If one contact is linked to several accounts, you will need to give them portal access to each of those accounts. They will then be able to switch between accounts once they log in.
Once a client receives an email invitation to their TaxDome portal, they will need to activate the account. The client must click on the link in the email, then create a password. You can see which clients have not yet activated their accounts and invite them again by navigating to Clients, then selecting the Pending Activation subtab in the Accounts tab.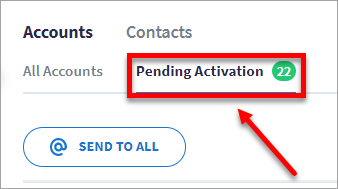 How to Toggle Off Your Portal Sign-Up Link
This section was moved. Please see here.
How Do I Know When New Clients Have Registered on TaxDome?
Once a client has set up a TaxDome account, you'll receive a notification in your Inbox+ and via e-mail. Click on the Go to... link to review the new client's profile.