Importing Client Account/Contact List
Importing Client Account/Contact List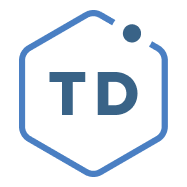 By Mary Cooper
updated 11 days ago
If you're just starting out with TaxDome but have been doing your practice for a while, you'll likely want to bring over your clients with you. Although you can create new contacts and accounts manually, but a CSV file upload is much faster method. The file import process has two parts:
Prepare your spreadsheet with clients' data outside of TaxDome, and save it as a CSV file.
Use our import tool to add your user data to TaxDome. Decide if you want to import contacts only or import contacts + create accounts.
Covered here:
Who Can Perform the Import
Firm owner always has the right to perform the import of contacts and accounts. If you want to give this right to your trusted team member, follow these steps:
1. Go to Settings, select Team & Plans in the menu bar, navigate to Active Team Members, then click on the team member name in the list.
2. Click on the Edit Access Rights pencil icon, then turn on the View all accounts toggle.
3. Click SAVE.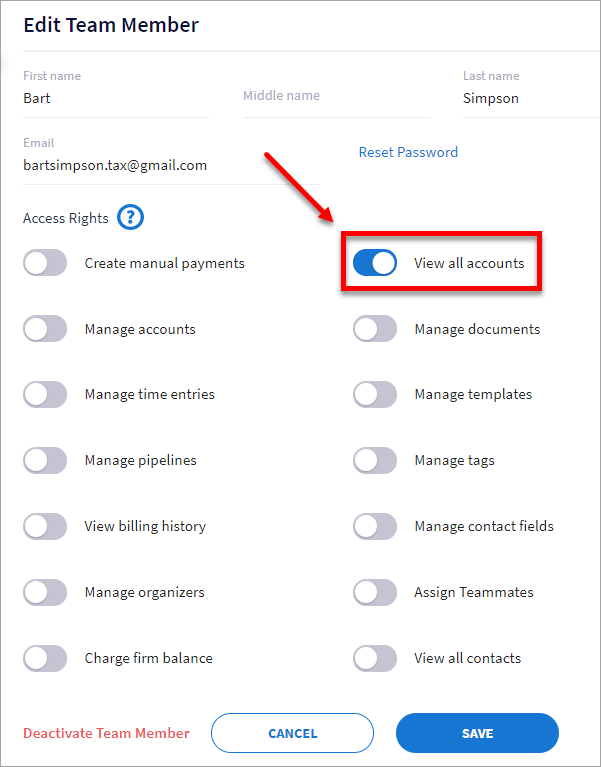 Step 1. Prepare a CSV File
To prepare your file for import, follow these steps:
1. In a spreadsheet program like Excel or Google Sheets, open your blank worksheet. Create and label a column for the first property, say, First Name. Then create and label additional columns for Last Name, Email, Phone Number, etc. Repeat this step for any other contact properties you want to include in TaxDome, like birthday, street address, or country.
2. Paste your contacts' information into the relevant fields in the spreadsheet. Your CSV file may have custom set of columns, however, there are some rules you must follow to make the import successful:
One row is taken as one contact.
If you also want to create Client Accounts, make sure there is a column in your file that contains the contacts' account names. Leave it blank for whose contacts that don't need to be associated to an account.
If you want to import multiple contacts to the same account, for the column you map to Account Name, enter the same value in the spreadsheet.

3. Save the file in CSV format. This option can usually be accessed from the File menu in your spreadsheet program, labeled as Save as .CSV or Download as .CSV. Different spreadsheet programs will vary a little bit. If you use another file type, we won't be able to process the file.
Also, your file must have commas as delimiters and be encoded in UTF-8 to make sure that all the contact imports are accurate (that's the basic standard format for CSV files). If the CSV file is not UTF-8 encoded, then symbols like ™, ®, ©, etc. get converted to unwanted characters.
For example, if you're using Microsoft Excel, select the Save as type as CSV (Comma delimited) (*.csv), select Web Options under Tools drop-down, and then select the Unicode (UTF-8) from Save this document as: drop-down list on the Encoding tab.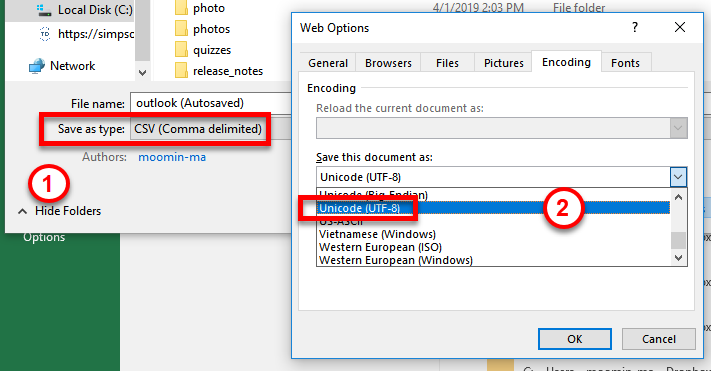 That's it! Now that you've prepared your CSV file, you're ready to import it to TaxDome.
Step 2. Upload Your CSV
Go to Clients, then click on IMPORT button. You can also access this button from the Contacts tab.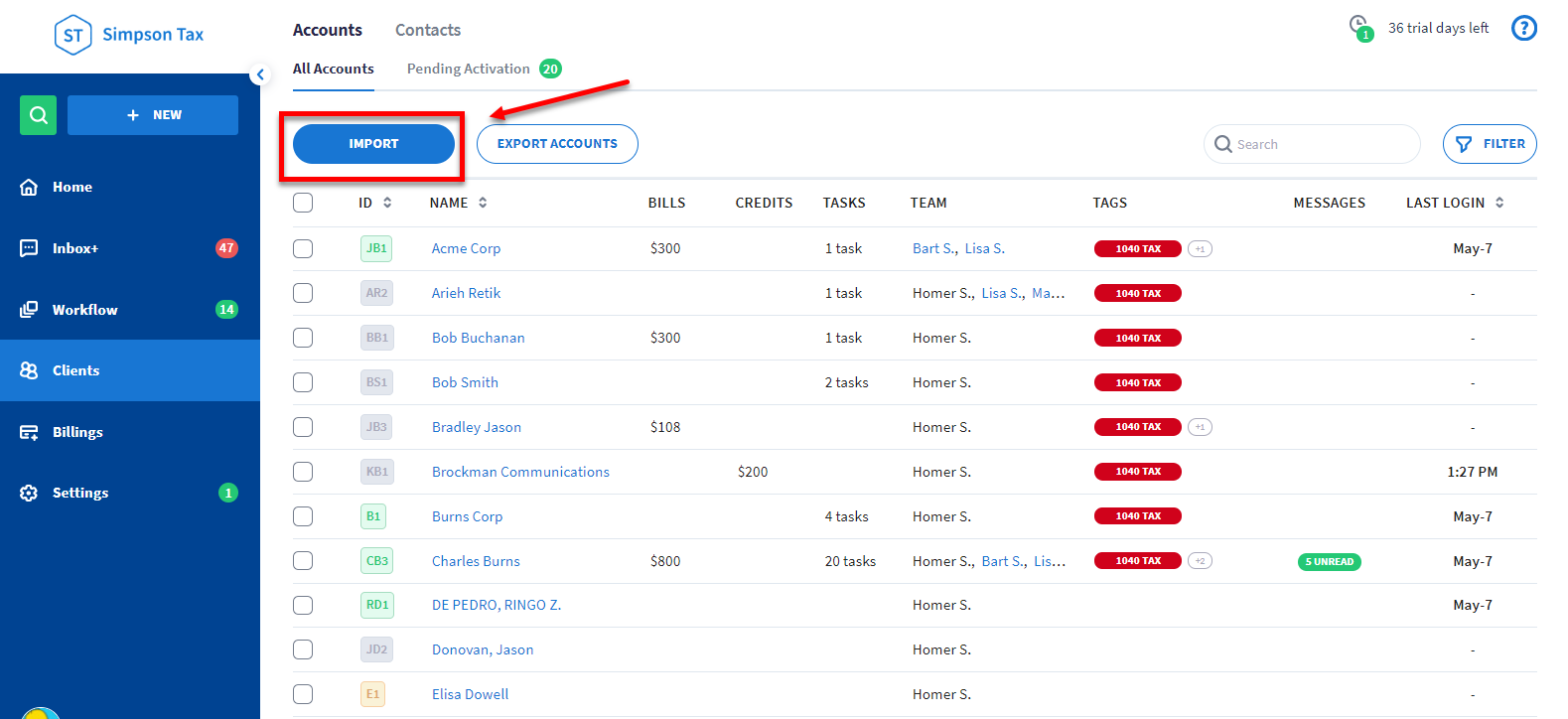 Then click the Upload CSV FILE button and locate the file on your device.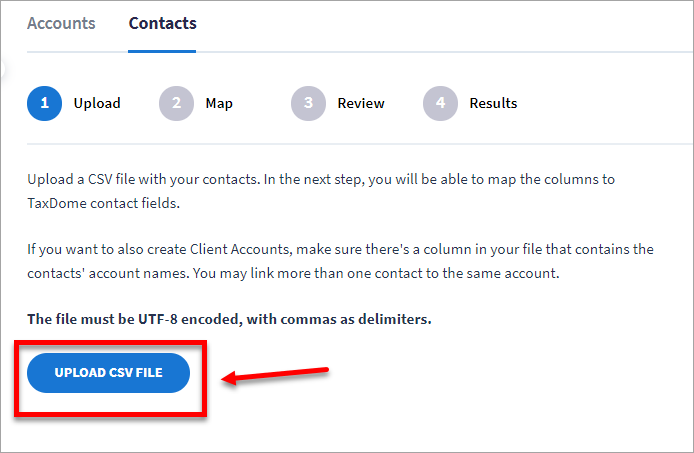 Step 3. Map the Columns to TaxDome Accounts (Optional)
Skip this section if you're going to import your contacts and not going to create accounts for them.
If you want to create accounts along with contacts:
At the left, you have the list of the account properties in TaxDome.
At the right, you have the dropdowns with columns from your spreadsheet.
Map the column from your spreadsheet that contains the contacts' account names with the Account Name property.

To add portal access for accounts, map the column from your spreadsheet that contains the contacts' email with the Login Email property.

Each account property can have only one spreadsheet's column mapped.
If you want to send each user an email invitation and let them to use TaxDome client portal, turn on the Send Invitation toggle. To add a custom message to the invitation email, type it in the Personalized message field. You will be able to do it anytime later from the Pending Activation tab of the Account List.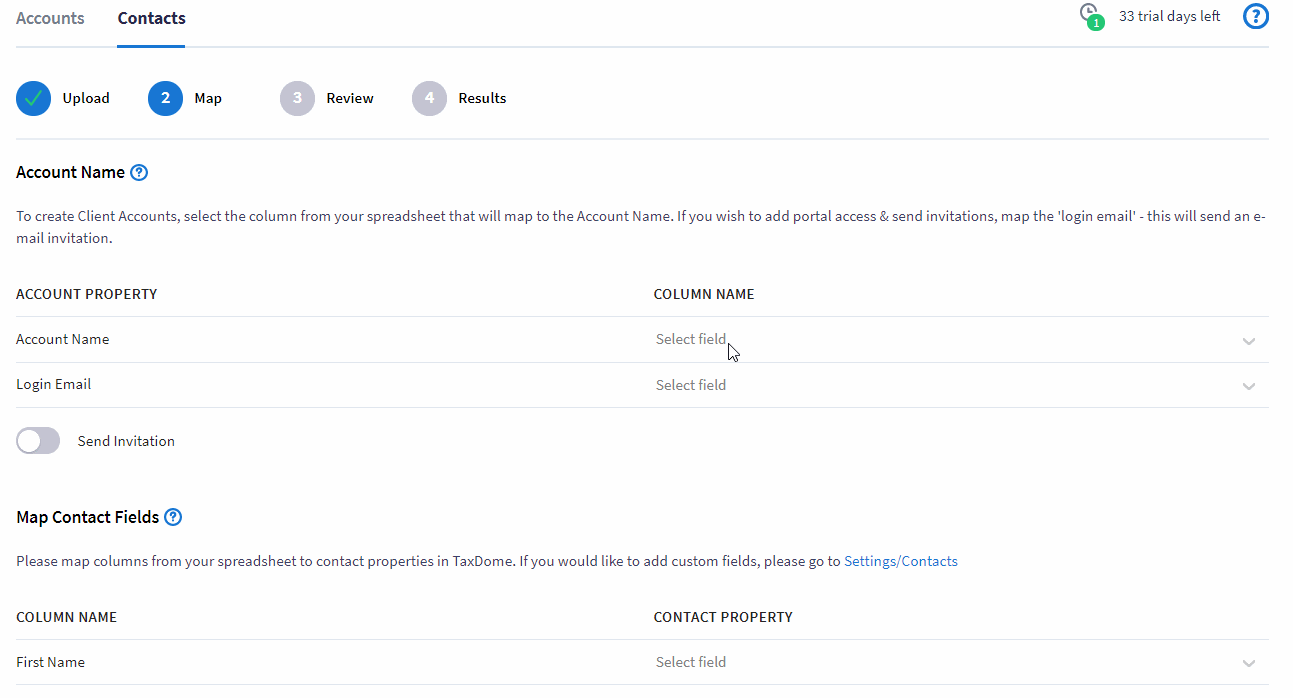 Step 4. Map the Columns to TaxDome Contact Fields
To import your contacts, proceed to Map Contact Fields section.
At the left, you have the list of columns from your spreadsheet.
At the right, you have the dropdowns with the contact properties in TaxDome. Map each contact field with a column from your spreadsheet.
If there is no default contact field for a column, select Create new field in the dropdown. The custom field with the name of the column will be created automatically. You can also add custom fields manually.
Each contact property can have only one spreadsheet's column mapped.
All columns that were not mapped will be ignored.
Once you mapped all columns, click CONFIRM. This does not start the import process. You can go back to this step if you find errors.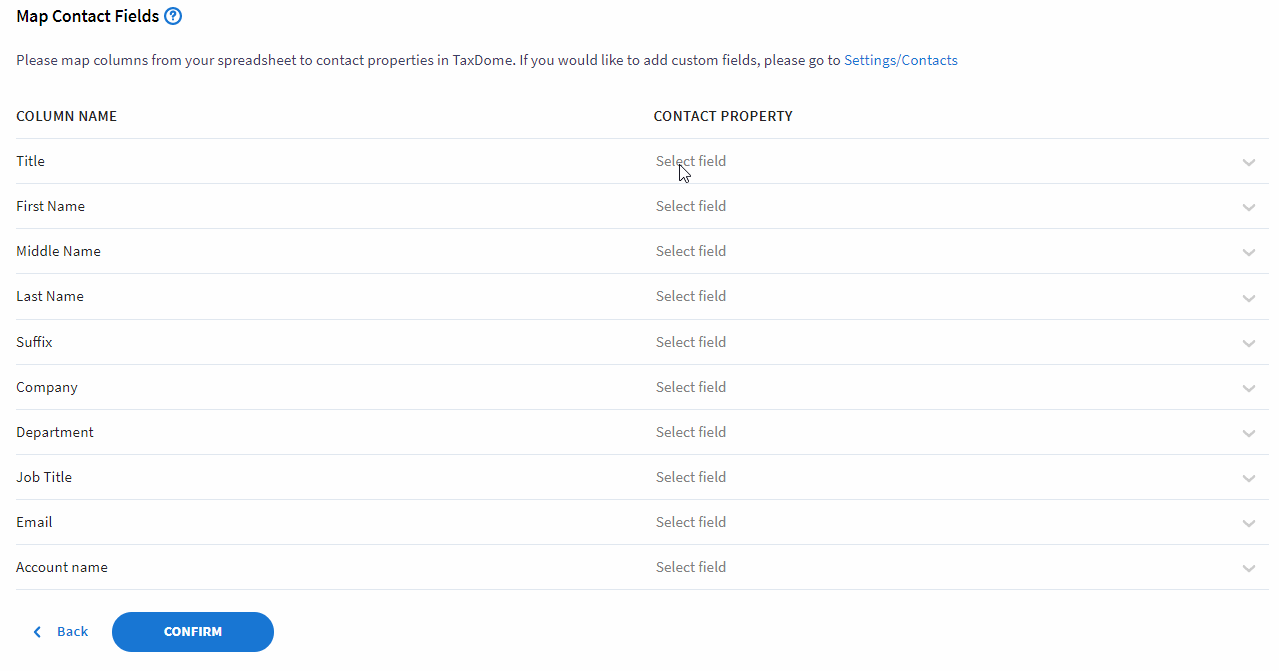 Step 5. Review the Mapping Results and Start the Import Process
In this step, you can review your mapping results. You can find out:
how many contacts will be imported
how many accounts will be created
how many columns will be ignored (these are the ones that were not mapped)
If this is what you expect, click IMPORT. Otherwise, click Back to make changes to fields mapping.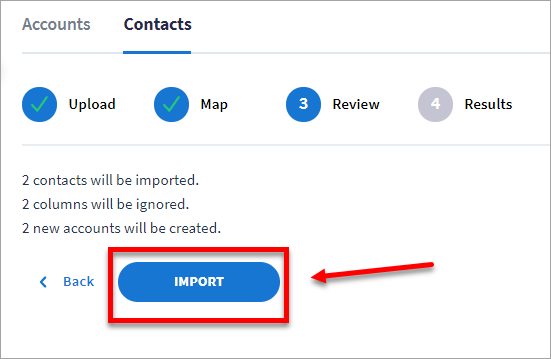 Once import process is complete, you'll see the results page.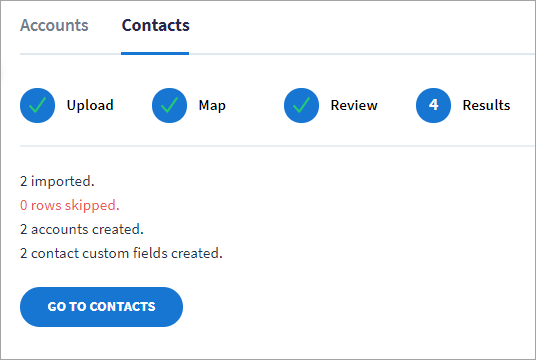 Our team is happy to assist with the import process if you have any issues!
Did this answer your question?