Request Electronic Feedback: Approve and Disapprove Documents
Request Electronic Feedback: Approve and Disapprove Documents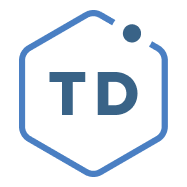 By Mary Cooper
updated 11 days ago
Aside from Signatures, you may also want a client to provide feedback on document(s) you've prepared.
To make sure each client is satisfied or find out whether they need anything further, you can request an approval for your work. For example, you can use document approval for Direct Deposit Confirmations, like many our clients do. Take a screen of the bank account screen in your tax software and upload the image for your client to approve before completion & filing.
If a client is not entirely satisfied with your work, they will be prompted to itemize the reasons why, so that you will immediately know what to tackle or fix.
Documents prepared by your firm that the client account has paid for, either approved or awaiting approval, are displayed in the Approvals subtab of your Docs section, where all their statuses are shown.

Covered in this article:
How to Request an Approval
If you would like to get a client's approval for a service, you'll need to turn on the approval feature when you're uploading to Public or moving to this location. To do so, click on the Request client approval? toggle.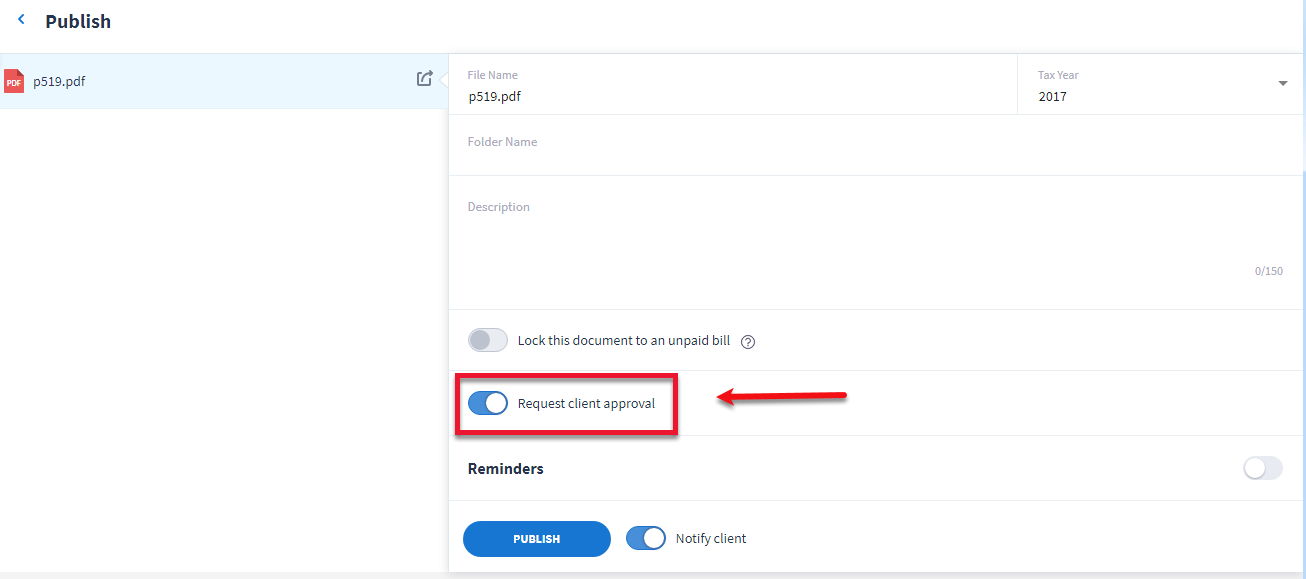 Reminding Clients About Pending Approval
Your clients always get an email notification when you send them a document that needs to be approved. However, sometimes an client might delay approving it or providing feedback.
You can turn on the reminder feature when uploading a document you've decided will require approval. When the reminder feature is enabled, an additional email to a client if they do not approve the document within a certain time frame. Once you turn on the reminder feature, you can configure it:
Inactivity Threshold, Days: Remind the client account after x amount of days of inactivity. By default, a reminder is sent 3 days after the document was uploaded.

Limit to: Send up to x number of reminders. By default, the client gets only one reminder email.

You can also manually send reminders for pending approvals:
Go to your Docs tab and open the Approvals subtab, then click the REQUEST APPROVAL FOR PENDING button.
Review and edit the message for the client account (optional), then click SEND REQUEST button.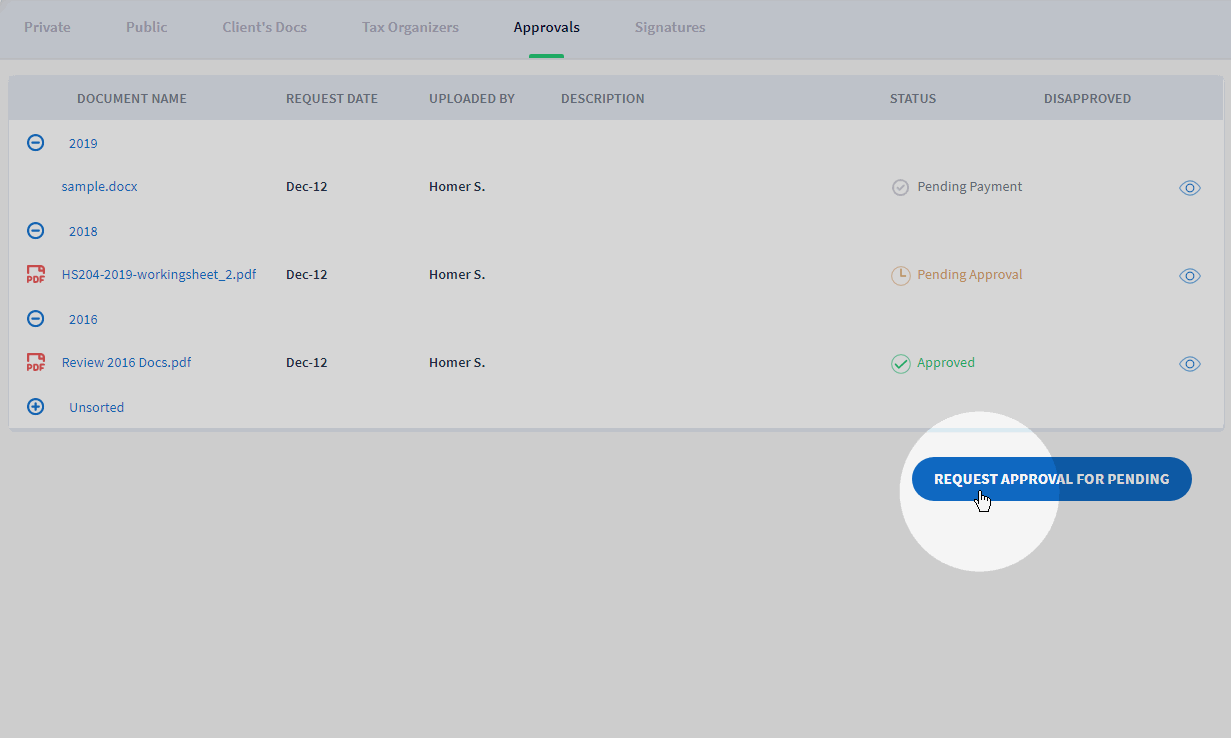 How Approvals Look on the Client's Side
Once you've sent documents that need approval to the account, they will be displayed in the Documents section under the Pending Approval subsection of the client account's portal. They will also receive a notification to the email listed as the email for account notifications. Here's how they approve your documents: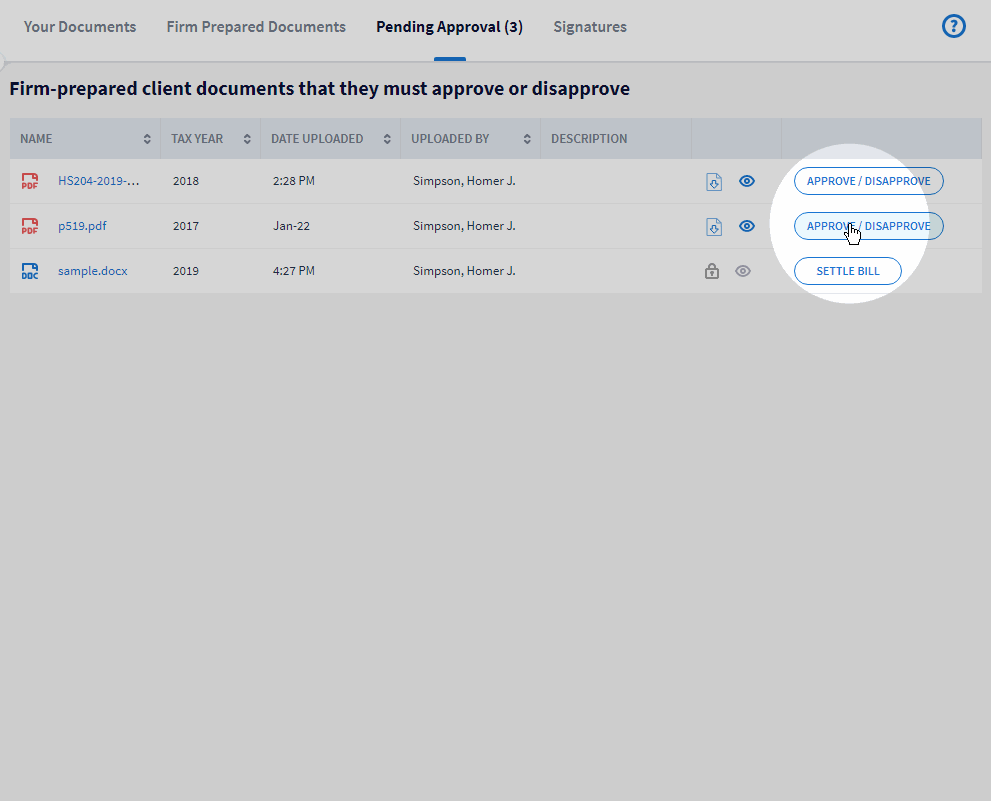 You can access Read-Only View of Client Account Portal to experience TaxDome from the client account's side.
How Do I Know That a Client Has Approved/Disapproved a Document?
Once your client approved or disapproved a document, you'll receive a notification by email. You also will get a notification in your Inbox+. Click the document link or the Go to... link to view it.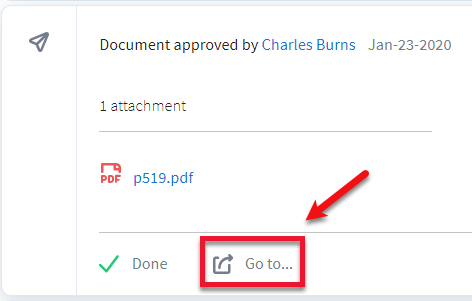 Managing a Client's Approvals
To manage a client's approvals, go to the Docs tab of the client's profile, then open the Approvals subtab. Only files for which approvals were requested are displayed here.
The following information can be found here:
Document name: the document's name. An icon showing the file type appears next to it.

Request date: the date that the account's approval was requested. This date usually matches the document's upload date. However, you can also request approval for a document that has already been uploaded by editing the document.

Uploaded by: the name of the team member who uploaded the document.

Description: a description of the document if one was added when the document was uploaded (this is optional).

Status: the status of the document. There are four colors:: gray is for Pending Payment, brown for Pending Approval, green for Approved (by the client account), and red for Rejected (by the client account).

Disapproved: If an. account has disapproved a document, the date that the document was rejected will appear in this column.
How to See Which Client Accounts Have Pending Approvals
You can easily filter your client account list to see which ones have pending approvals. To do so:
Go to Clients, then click the FILTER button.
Select Pending in the Approvals section, then click the APPLY button.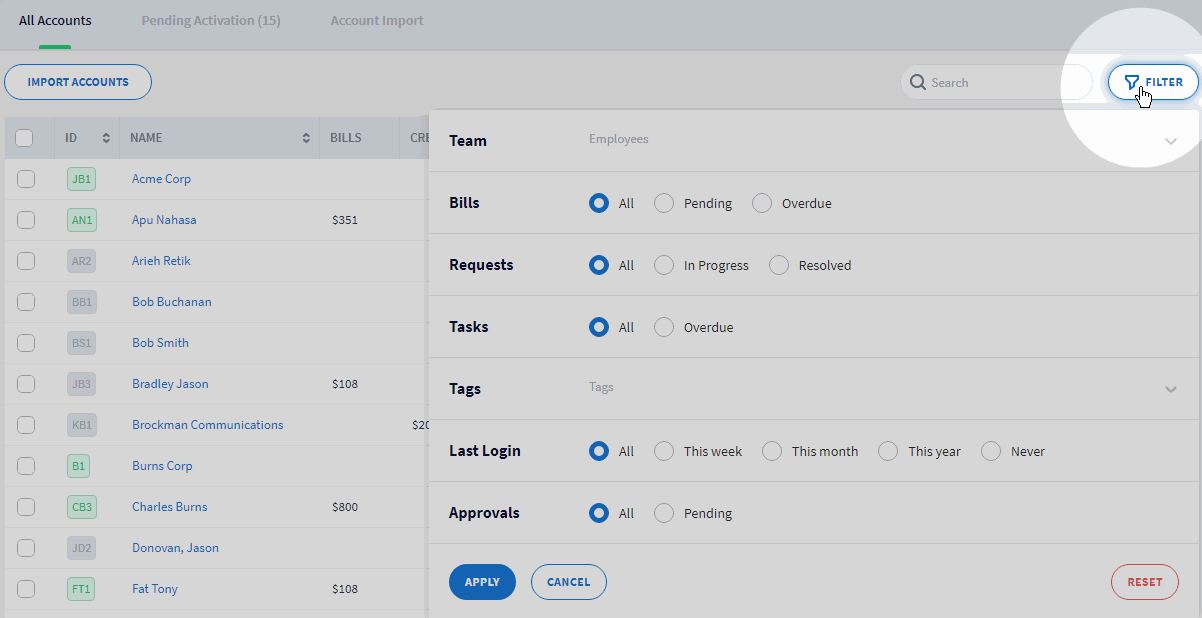 Finding Out Why an Client Has Rejected a Document
If a client is not entirely satisfied with a document you've prepared, TaxDome allows them to explain why. To view feedback, click on the document's name or the eye icon. To the right side of the document's content, you will see a numbered list beneath Disapproval Reasons of the client's need for changes or fixes.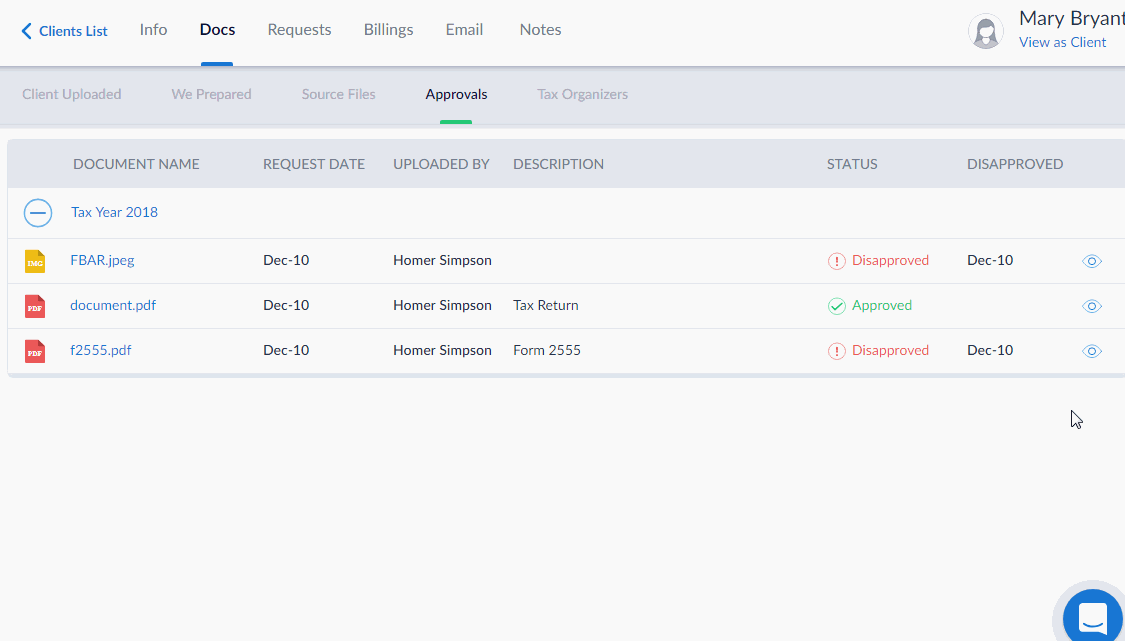 Click CLOSE to return to the list of documents.
Did this answer your question?