Creating Secure Messages
Creating Secure Messages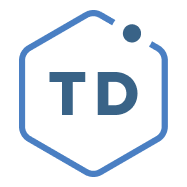 By Mary Cooper
updated 1 day ago
While preparing documents, you probably find that you have to email clients when questions arise. However, email is not always the most secure way to communicate nor does it make it easy to share info with staff without cluttering up inboxes. That's why we've created a mini chat thread where you can safely discuss issues as they come up and keep an open line of communication between you, the client, and the relevant staff on your team.
Creating New Messages
A message can be created by a firm owner or any team member who has been either assigned to the account or given access rights to view all accounts .
Messages can be sent either manually or via pipeline automation.
You can send a message either to a single client account or to several at once:
Go to Clients from the left sidebar, select the checkboxes next to the relevant client accounts, click on the three-dots icon, then click Send Message. Write a title for the message (optional), add your text, then click SEND.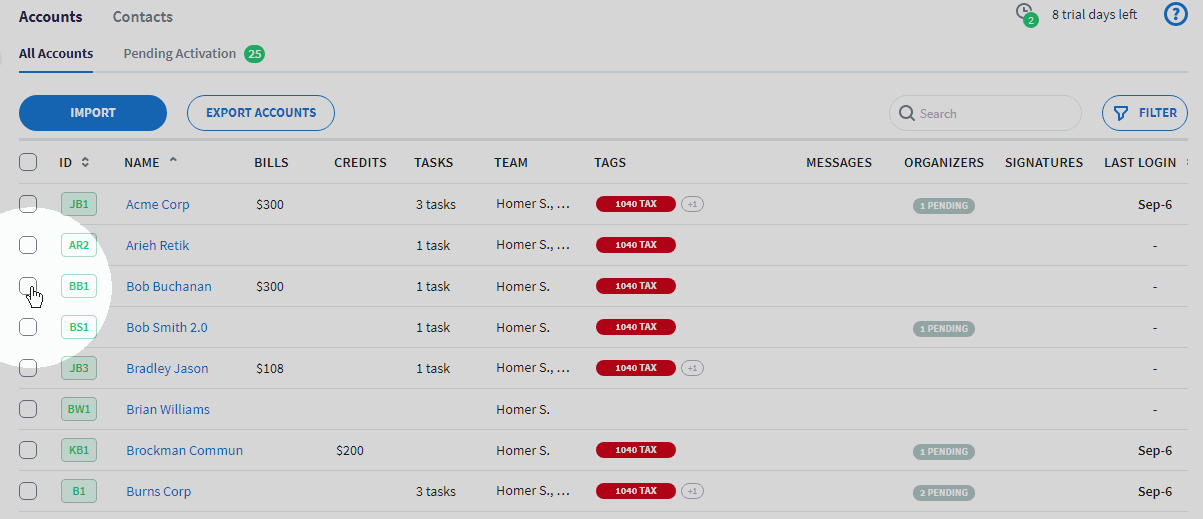 Alternatively, click the + NEW button in the left sidebar, select Message in the pull-out, then choose the client account. If you don't see it in the Select Client pop-up list, type the name, ID, or email address into the search field.
Write your message. You can use apply formatting, add bullets or numbered lists. You can also add title, though it is optional. You can edit the title anytime later.
That's it! Click on blue button to send the message to the client. The client automatically receives an email informing them on a new message.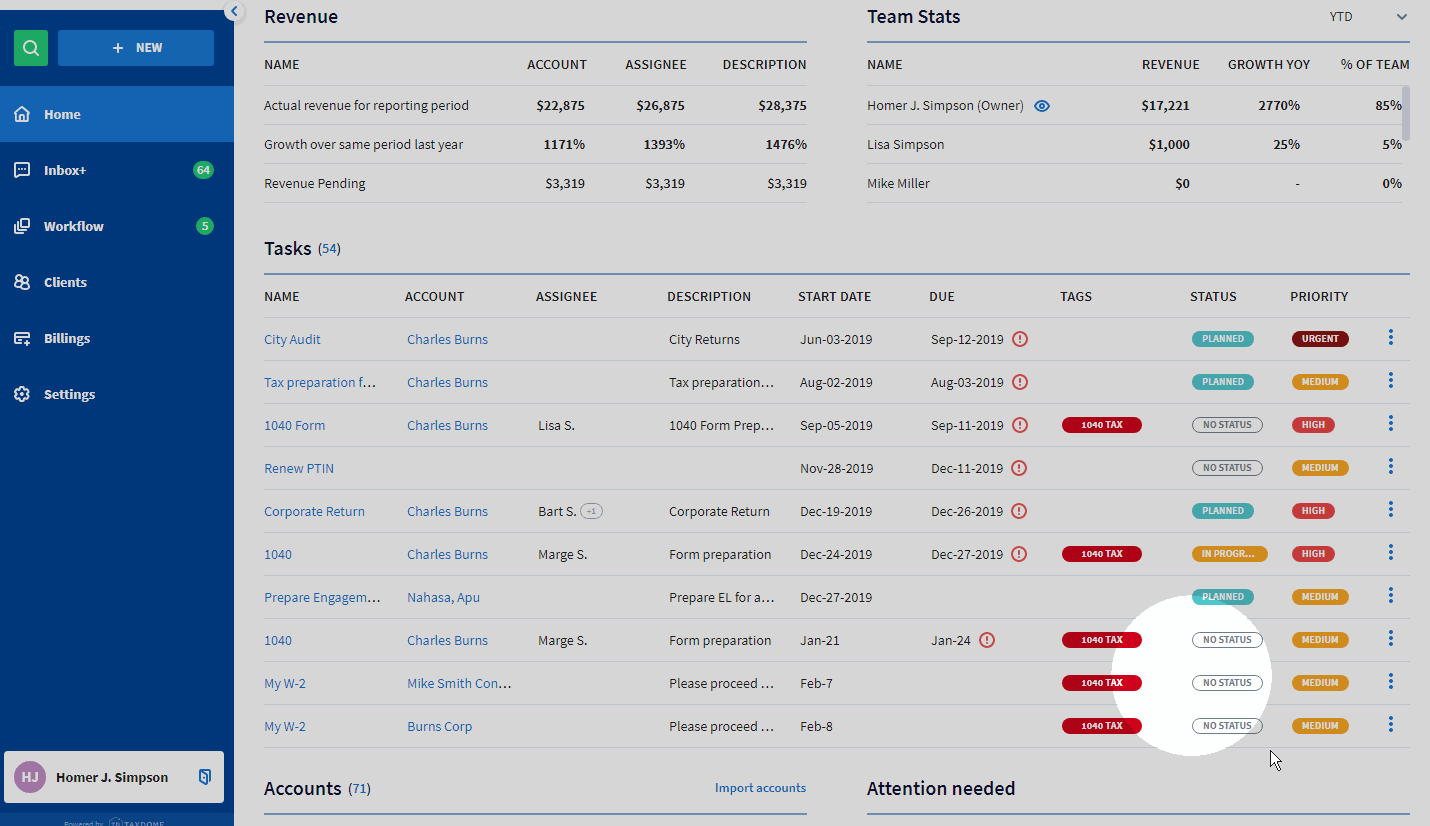 Optionally, you can use extra messaging options:
Setting Up Reminders
While creating a message, you can switch on the Reminders toggle, so that an email will go out to the client if they don't respond to a message within a certain time frame. Here's how to configure Reminders:
Inactivity Threshold days: Remind an account after x days of inactivity. By default, a reminder goes out three days after the last message in a thread was sent.
Limit to: Send up to x number of reminders. By default, an account gets only one reminder email.

The Reminders toggle can be turned on and off at any time. Reminders are always for your last message in a thread.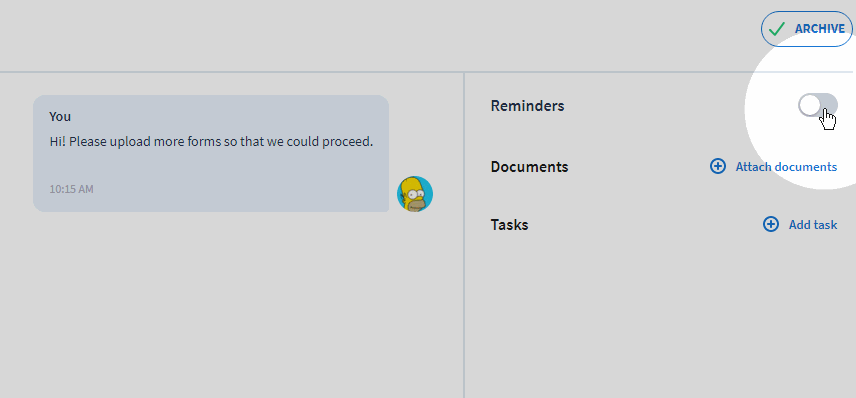 You can see how many reminders about a message were already sent.

Reminders stop when...
...the client has not responded to the message and the set number of reminders has been reached.
...the client has responded to the last message in the thread.
...you archived the message thread.
...you switched off a reminder for a message thread.
Note: If you archive a message but then reopen it, the reminders will act as if it's a new message thread.
Attaching Files to Messages
You can attach files from your desktop or previously uploaded to TaxDome, either while creating a message or later.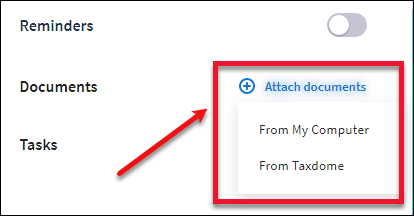 Click the Attach documents link, then select your preference:
Attaching Files from TaxDome: Select From TaxDome, then click the folder and choose the file(s). You can attach files from either the Public or Client's Docs locations.
Uploading Files from Your Computer: Select From My Computer, then click on the ADD DOCUMENTS button and locate the file(s) you want to upload. For more, go here.
Uploading Whole Folders: Select From My Computer, click on the ADD FOLDER button, then choose the folder. For more info on processing folders, go here.
Uploading Zip Archives: Select From My Computer, click on the ADD DOCUMENTS button, then locate the compressed file you want to upload. It will automatically unpack. Learn more about this here.
Files uploaded to messages are saved to the Public documents location.
Adding Client Tasks to Messages
Within each message thread, you can have tasks for your client. Think of these as to-do items on a checklist, which need to be performed by the client. The tasks can be added to the thread at any time.
Once you click the Add task link, a checkbox will appear below with Things to do beside it. Fill in the name of the task, or the to-do item.
Click Add task to create more items on this checklist.
Once a task is completed, either you or your client can check the box beside it to mark it as done.

You can change the order of tasks or delete them using the icons to the right of it.
What Your Client Sees When You Create Messages
Your client can view and respond to a message you've sent either by going to the Messages section of their portal or by clicking the link in the email notification.
You can access the Read-Only View of a Client Portal to experience TaxDome from the client's side.

Did this answer your question?