Creating Secure Messages
Creating Secure Messages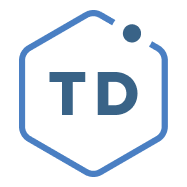 By Mary Cooper
updated 14 days ago
When you are preparing documents for your clients, it is likely that you will have additional questions arise for them. Occasionally you might choose to use email. However email is not secure and information in it is not readily transferred to other staff members without cluttering up everyone's inboxes. That's why we've made it possible for you to organize your questions for the client by creating a mini chat thread to discuss an issue and to facilitate an open line of communication between you, the client, and any other relevant staff on your team.
Covered here:
Creating a New Message
A message can be created by a firm owner. It can also be created by a team member who is either assigned to the account or has granted the View All Accounts permission.
To create a new message:
1. Click the +NEW button on the Sidebar, select Message, then select the account from the list. You can see the five most recent client accounts here. If you cannot find the account you are searching for among them, start typing their name, ID or email.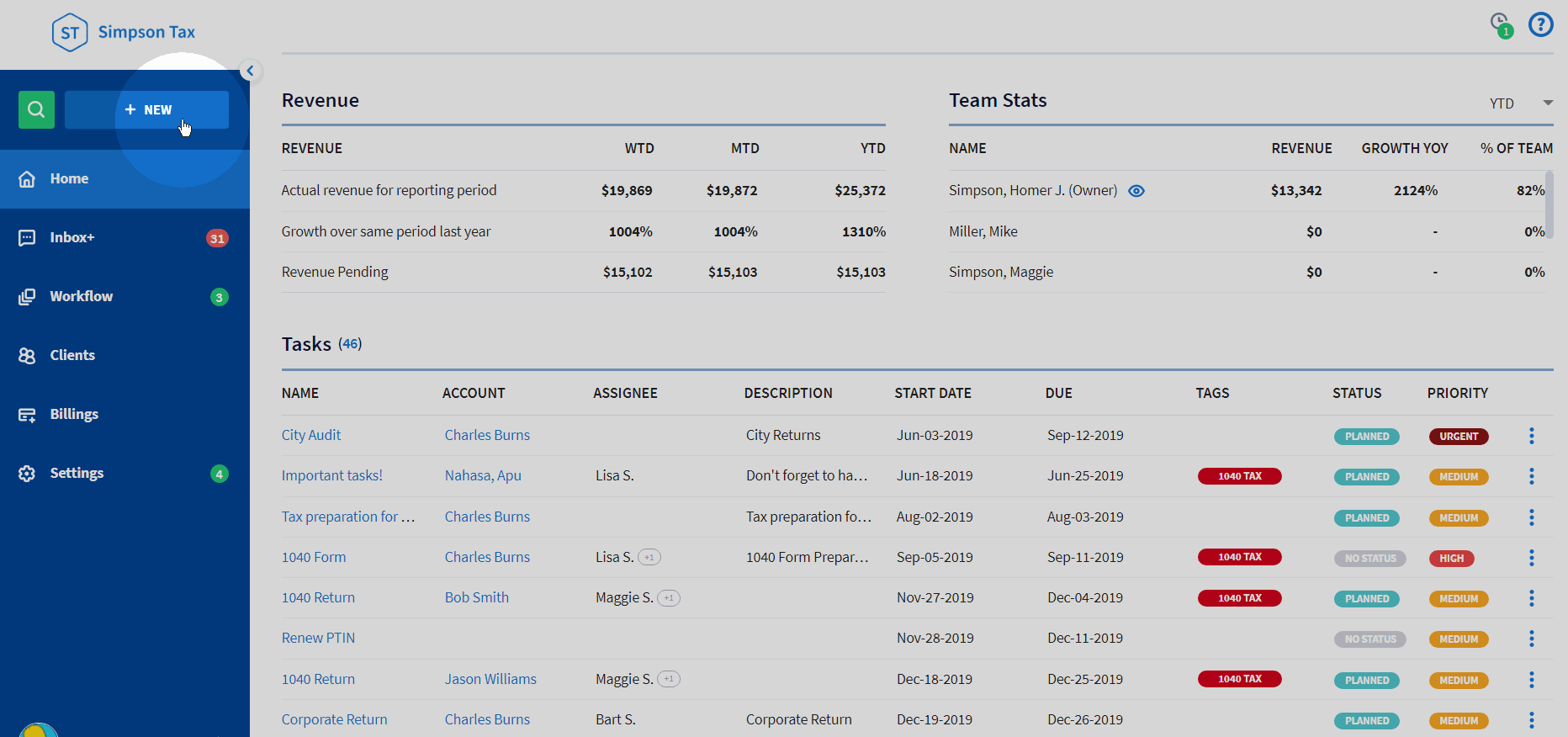 Please note: If the message you're creating is for a different account than the one you originally chose, you can always specify another in the New Message window that follows (See how).
2. Write a title and add a message to further explain your question. You can use different fonts, apply formatting, add bullets or numbered lists to the message.
3. By default, the message doesn't apply to any year; however, you may change it to the year to which the message applies.
4. Click on UPLOAD FILE to add any relevant documents. See below for details.
5. Turn on a reminder to send an email to an account if they do not respond to the message.
6. Click on Save to send the message to the client account.
7. The client account automatically receives an email informing them that a question is pending.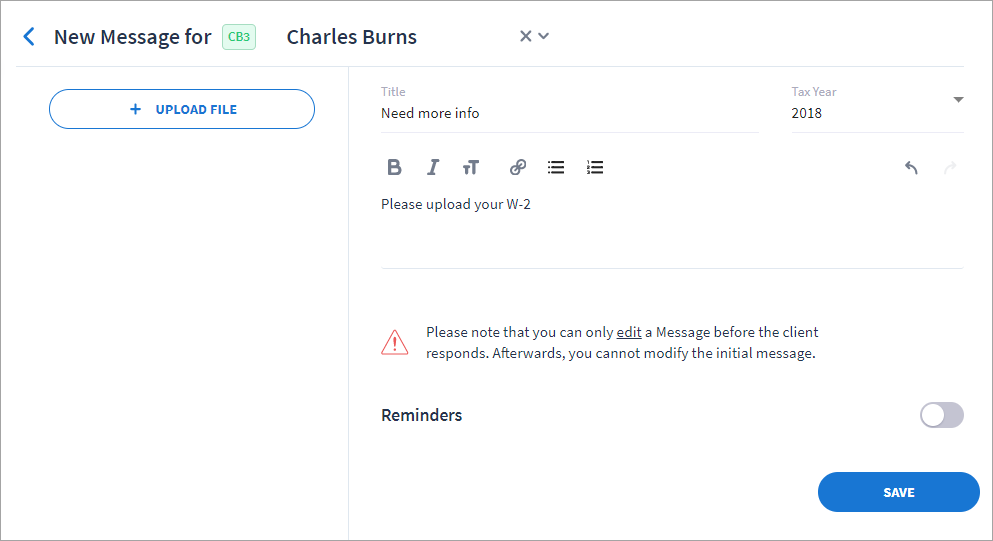 Attaching a File to a Message
Your messages may contain related files. You can add the files from your computer or attach files that have been previously uploaded to TaxDome. You can add files while creating a message or at any later time.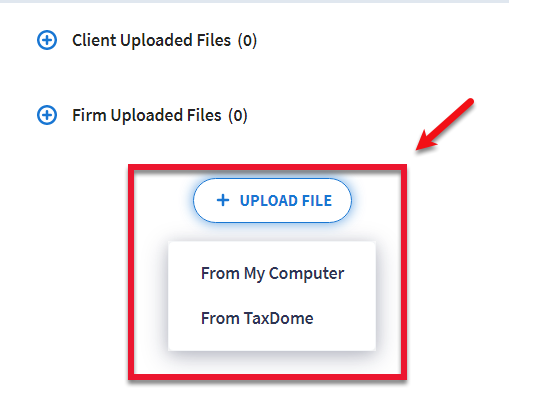 Simply click the UPLOAD FILE button, then select your preferred option:
Attaching Files from TaxDome - Click on UPLOAD FILE, select From TaxDome, then click the year and select the file(s). You can add any of the files that from Public or Client's Docs sections.
Uploading Files from Your Computer - Click on UPLOAD FILE, then on the From My Computer subsection, then click on the ADD DOCUMENTS button and locate the file you wish to upload. Proceed with uploading as described here.
Uploading Whole Folders - Click on UPLOAD FILE, then on the From My Computer subsection, then click on the ADD FOLDER button and select the desired folder. Proceed with uploading as described here.
Uploading Zip Archives - Click on UPLOAD FILE, then on the From My Computer subsection, then click on the ADD DOCUMENTS button and locate the compressed file you wish to upload. We'll unpack it automatically. Read more on this here.
Files uploaded to messages are saved to the Documents - Public section.
Setting Up a Reminder
While creating a message or any time in the future, you can switch on a reminder. which will send an email to an account if they fail to respond to your message. Here's how you can configure it:
Inactivity Threshold days - Remind an account after [ ] days of inactivity. By default, a reminder is sent 3 days after the last message in the thread is sent.
Limit to - Send up to the desired number of reminders. By default, an account gets only 1 reminder email.

You can freely turn reminders on and off. They always refer to the latest message you send to the thread.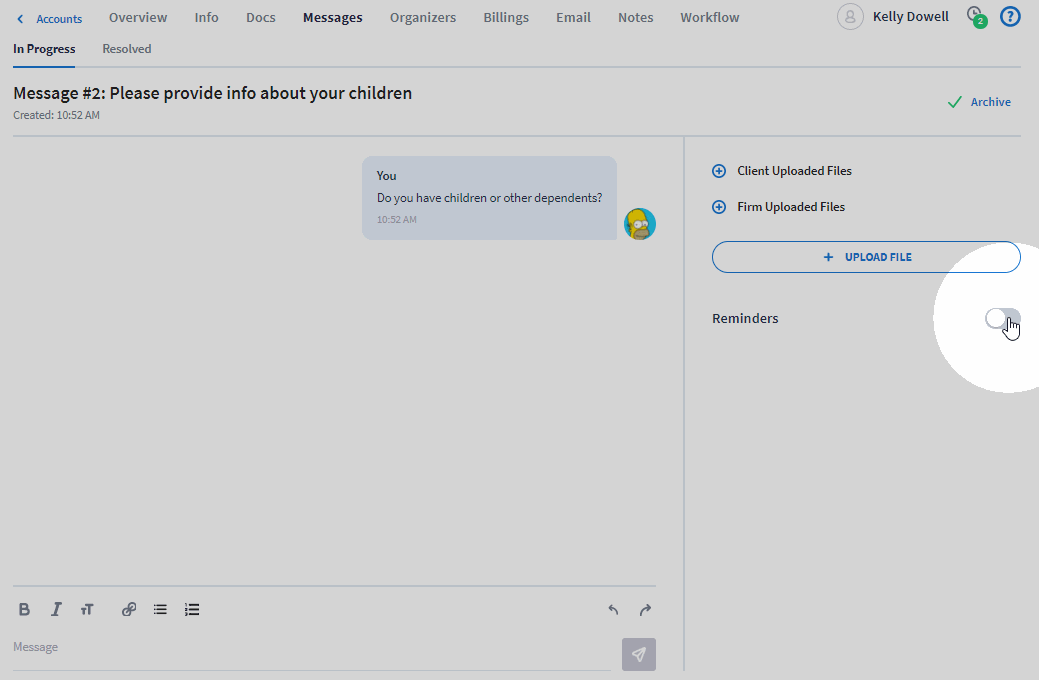 You can always see how many reminders regarding the message were already sent.

Reminders stop when either:
the account has not responded to the

message

, and the number of reminders set has been exhausted;
the account has responded to the last message in the thread;
you resolved the message thread;

or

you switched off a reminder for a message thread.
Note that if you resolve a message, and then reopen it again - then the reminders will act as if it's a new message thread.
Changing a Client Account While Creating a Message
Usually, you select the client account before creating a message. However, sometimes it is the reverse:
If you clicked +NEW button and then selected Message while inside an account's profile, you probably are looking to create a message for that particular client. That's why the next step will be creating the message without the client-selection option.

If you mistakenly selected the wrong client account.
You can still choose another client account once the New Message pop-up comes up:
1. Click the client's name at the top of the window. You'll see a list containing your five most recent clients. If the one you are looking for does not appear there, type their name, ID, or email into the search field.
2. Click the CHANGE CLIENT button.
Please note: Changing a client's name will clear all fields. You will need to type your text and attach files to your message again.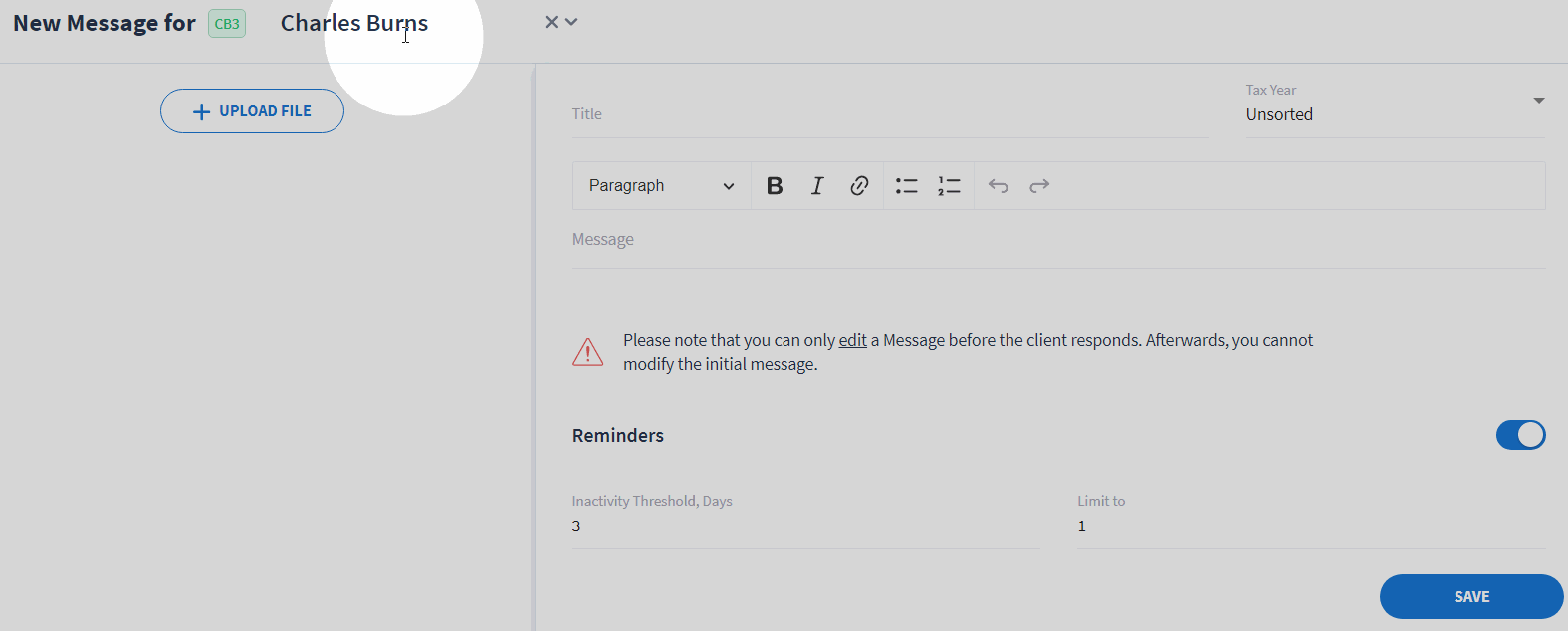 What Your Client Sees When You Create a Message
Your client can view and respond to the message you've sent either by going to Messages section of their portal or by clicking the link in the email notification.
You can access Read-Only View of Client Portal to experience TaxDome from the client's side.

Did this answer your question?