Setting Up a Custom Website URL
Setting Up a Custom Website URL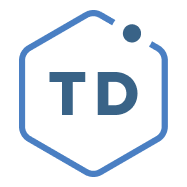 By Mary Cooper
updated 1 day ago
Use your own domain name instead of taxdome.com. What does this mean? If you own a website - say sampletaxfirm.com - your firm and your clients can see that in the address bar instead of taxdome.com. Setting up a custom domain (URL) to your TaxDome client portal involves a three-step process:
buying the desired domain name (in case if you haven't got the one yet),
adding a CNAME record to your registrar DNS,
and lastly, adding your domain to your TaxDome account.
With this feature, you can also set up a custom subdomain to your TaxDome client portal, e.g. portal.yourfirmurl.com. In this case, you will still have your main website URL where it is, and your subdomain will be pointing to your TaxDome client portal.
Covered here:
Buying a Domain Name
Domain registration is now fairly simple.
Select your desired website address. Check domain-name availability to pick your best option. (For more details on this process, see our help article How to Pick a Domain Name that Stands for Your Brand.)
Choose a domain registrar (godaddy.com, namecheap.com, gandi.net, and domain.com come well recommended) and register your desired domain with it.
Adding a CNAME Record to Your Registrar DNS
On your DNS management page, find the DNS records section, create a new CNAME record, point it to your TaxDome firm URL (e.g., yourfirmname.taxdome.com), then save the changes. Make sure the following fields are filled in correctly:
Record Type: CNAME

Host or Name: To add your subdomain (e.g., portal.yourfirmnameurl.com), enter the subdomain name (e.g., portal) here. If you want to add your main website URL, leave this field empty. If this is not allowed by the registrar (for example, GoDaddy doesn't allow this), then use web forwarding. See Example: How to Set Up GoDaddy DNS for Your Domain.

Points to or Value: your TaxDome firm's URL (e.g., yourfirmname.taxdome.com)
Note: A recent change in how GoDaddy handles new DNS record values makes it so that it automatically adds your domain, resulting in a CNAME record with too much information. So don't fill in the Host field with your main website URL. See correct (left) and incorrect (right) examples below:

It can take up to 24 or even 48 hours for the CNAME record to get updated, although most times it doesn't take that long. On average, you will wait about an hour.
Example: How to Set Up GoDaddy DNS for Your Main Domain
GoDaddy doesn't allow to add a CNAME record for the main domain. However, you still can make your clients to see your main website in the address bar instead of taxdome.com by following this steps:
1. Go to your domains page, then select Manage DNS.
2. Navigate to the Forwarding section, then click ADD next to the DOMAIN.
3. Forward your domain to www.yourfirm.com (i.e. add www to your main domain), check that FORWARD TYPE is set to Permanent and SETTINGS are set to Forward only, then click Save.
4. Navigate to the Records section at the top of the same page, locate CNAME record for www subdomain, then click the pencil icon to make changes to it.
5. Enter your firm's TaxDome URL in Points to field, then click Save.
6. Add your main domain to your TaxDome Account (see below).
If you're having issues setting up your GoDaddy DNS, we can do it for you.

Please send an invitation to help@taxdome.com (see How to invite a delegate to access my GoDaddy account), as well as follow up with an email to the same address letting us know what domain (or subdomain if you want to keep your existing website separate from TaxDome) you'd like to set up.
Adding Your Domain/Subdomain to Your TaxDome Account
Navigate to Settings, enter your custom domain/subdomain under the Custom Domains section on the Firm Profile tab, and then click Verify. TaxDome automatically verifies that the domain/subdomain is set up correctly, and then will issue an SSL certificate.
You can monitor the domain verification process by exploring the status next to it. You'll see either one of these messages:
We're checking if your CNAME is set up correctly.
Your CNAME is set up correctly, we're issuing the SSL certificate.
All Good: - This means the SSL certificate is ready.
Once your custom domain/subdomain has been added for your TaxDome portal, you, your team, and your clients can access the portal at your added URL.
Removing Your Domain
All domains that have been successfully added for your TaxDome portal have a cross icon next to them. Click this icon to remove your domain, then confirm.
Did this answer your question?