Adding Accounts
Adding Accounts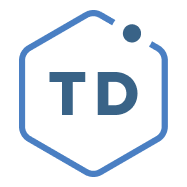 By Mary Cooper
updated 21 days ago
TaxDome makes managing all of your customers a breeze by putting all of your important documents and action items for a client at your fingertips. The first step is to add clients to our system, one by one or in batch mode. Your clients can also register on their own if you dіdn't forbid it.
In TaxDome there are Accounts and there are Contacts. An account is an 'entity' that someone or many contacts can log on to, that you can manage your work around. Your contacts is your 'phone book' and where you can contain information about all of the individuals you interact with. A contact, just like in your regular list of contacts, may be an individual or company. Еach client's account in TaxDome may have a corresponding contact or several contacts.
Covered here:
Creating a Client Account
New account creation is available for the firm owner as well as for the team members who has granted the Manage accounts permission.
To create a client's account on TaxDome, follow these steps:
1. Click the +NEW button in the blue sidebar, then select Account from the pull-down menu.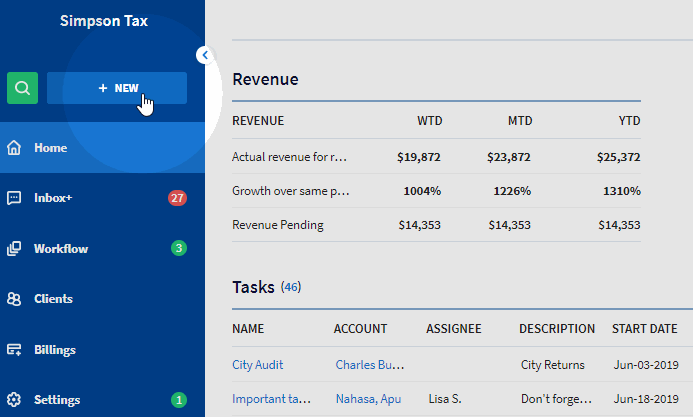 2. Fill in the Account Name field which is usually the client's first and last name or company's name (if you're creating an account for a firm).
3. Select a contact you account will be linked to. Though this step is optional, it is highly recommended.
Linked contacts ensure that you will have all client's personal info, such as email, phone number and street address, at hand.

It's possible to link an account with several contacts (spouse, child, business partner, etc).

You can also create a new account right from here. Click on the New contact link, create a contact for this account. Once a new contact will be saved, it will be available in the Contacts list on the Create client account page.
4. Assign tags to help categorize your accounts. See Using Account & Task Tags to find out more on tags.
5. Grant a team member(s) access to an account's details by selecting them from a list. If none of them are selected, the account will be assigned to default assignee(s).
6. Decide if you want to invite the client to use TaxDome client account portal. By default, the Invite user to login toggle is off. This means that the offline account will be created. You will be able to upload documents to them, add them to pipelines, create tasks, etc. However, such users will not be able to access client account portal unless you add an email for their account (see below).
7. Click the CREATE USER ACCOUNT button.

Inviting a User to TaxDome When You Create Their Account
If you want your client to use TaxDome client account portal, you need to invite them to Taxdome when you create their account or later at any time.
To do so, turn on the Invite user to login toggle, then enter the client's email. If you've already selected a linked contact containing email, it will be added automatically. However, you can enter another email. You can also include a special note to your client account which will be sent along with an invitation email.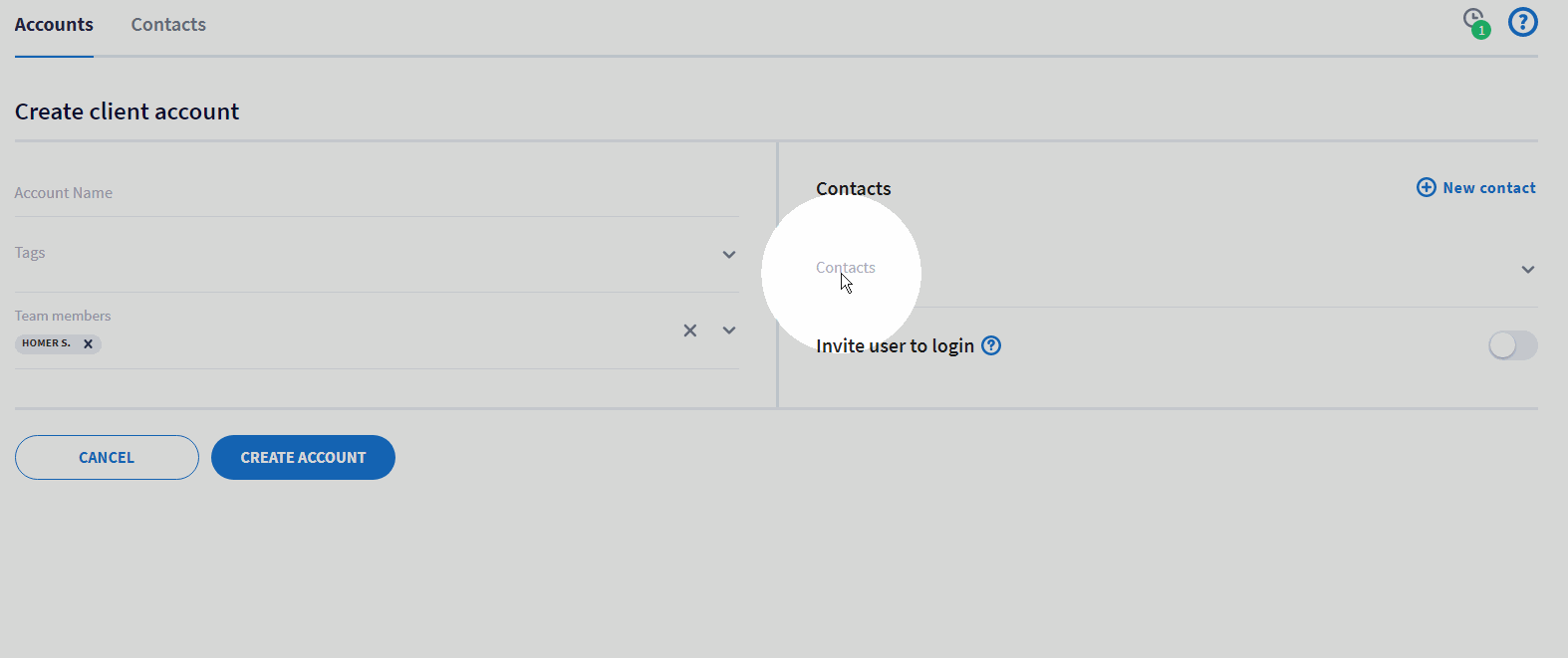 Using the same email for several client accounts is allowed. However, if you're inviting a new user with an email that is already in use in another account, you will get a notification. Click OK to grant the existing user access to a new account. They will be able to switch between accounts when they log in.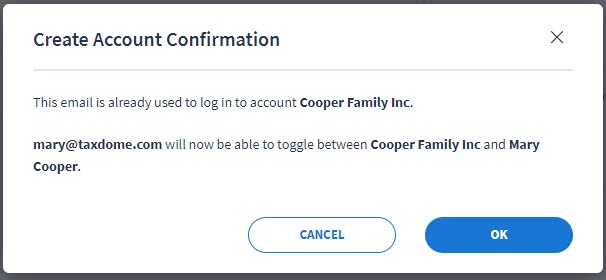 Once a new account is created, a user will receive an invitation email. In order to activate the account, the client must click the link in this email, then create a password. Until they have activated their account, client accounts will be visible on Accounts list but marked as Inactive (gray icon). Read more on Client Account IDs here.

You can view which of your clients have not yet activated their accounts and resend invitations by navigating to the Clients, then selecting the Pending Activation subtab of Accounts tab.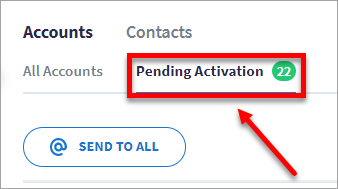 Adding an Email for an Offline Account
Offline accounts are the ones that were created without sending an email invite to the user. Sometimes you may want to set up an account, to add all documents for your client, and only then invite them to TaxDome. Here's how you can do this:
1. Navigate to Clients, and then click on the account's name in the list. Accounts without emails are marked as Offline (beige icon) in the Accounts list.

2. Go to the Info tab, then click on the Add User button in the Profile Access section.
3. Start typing the user's name. TaxDome will display matching contacts. Click on the contact's name to fill in the name and email automatically. Otherwise, type in the user's name and email address.
4. Decide whether you want to collect email messages and save attachments from the user's email address (for a detailed explanation, see The "Collect Email and Attachments From This Address" Checkbox, Explained).
5. Click Add user link in case you need to create several client profiles for one user (for example, an account for the organization the client works for and their own, personal account).
6. Click SAVE.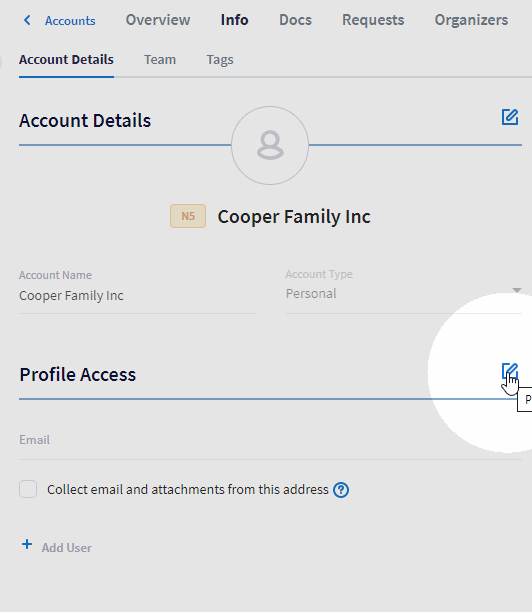 Once you have completed that last step, the system will send the client an activation request by email. In order to activate the account, the client account must accept the request, then create a password.
Prohibiting Your Clients From Registering on Their Own
By default, your accounts can also register on their own, via the Sign up link.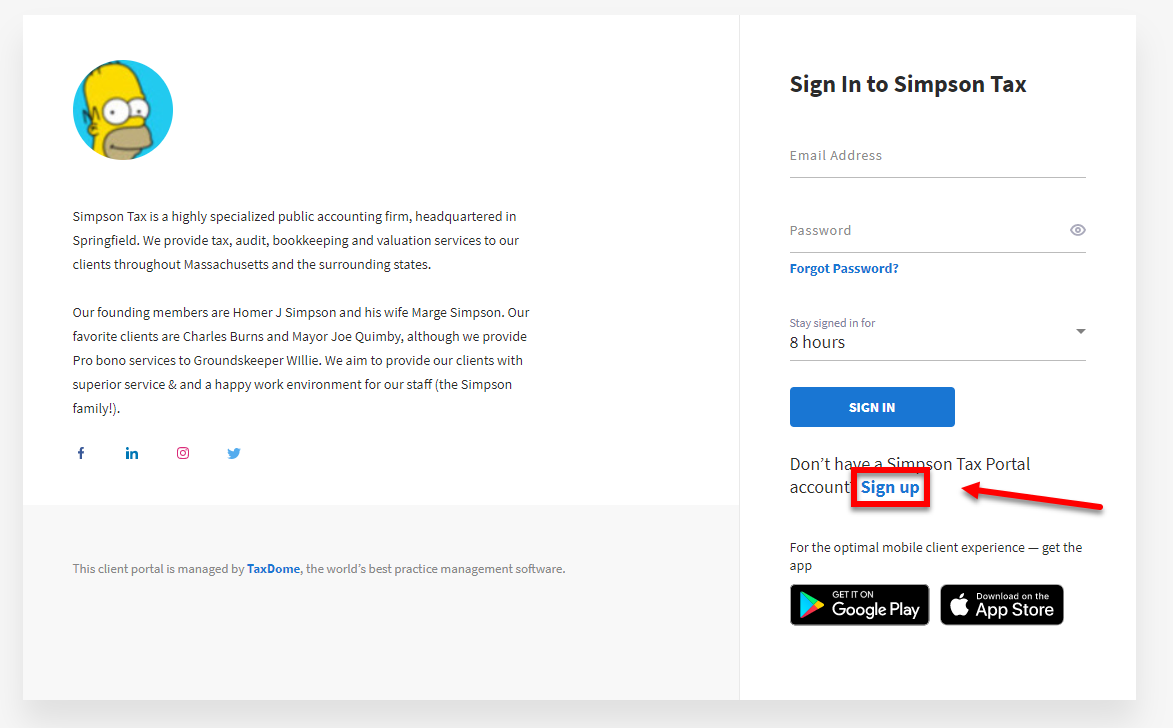 If you don't want them to register, you can hide this link. Navigate to Settings, then to Firm Info. Now, clear the Allow clients to sign up checkbox in the About Us section, then click SAVE.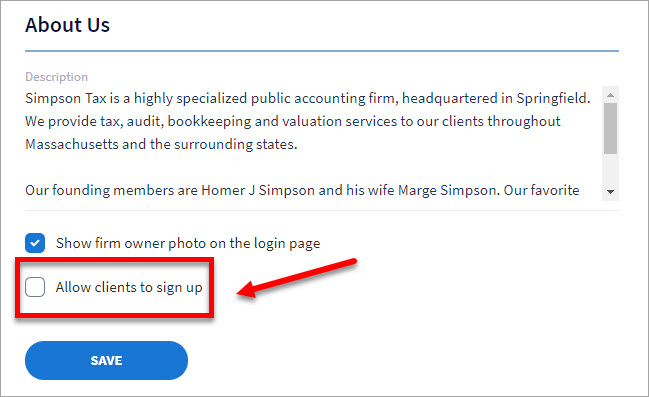 Now, the Sign Up link will now appear on login page.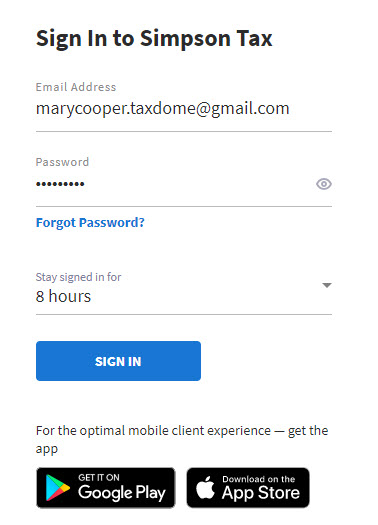 How Do I Know That an Account Has Signed Up?
Once your client set up their TaxDome account, you'll receive a notification by email. For the clients who registered on their own, you also will get a notification in your Inbox+. Click the Go to... link to review their profile.

Did this answer your question?