Uploading Documents
Uploading Documents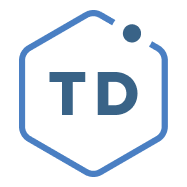 By Mary Cooper
updated 15 days ago
There are many ways to upload documents to TaxDome. You can drag-and-drop them one by one, select several or all from a folder, or use a zip archive that will automatically unpack.
If you are moving a large batch of documents from another system, our bulk uploading tools via the TaxDome Desktop App or the TaxDome Drive can make the transition seamless.
Please let us know if you need any assistance, our team is ready to assist.
Covered here:
The Ins and Outs of Uploading to TaxDome
On TaxDome, documents can be stored in three different places: They go either in the Private, the Public, or the Client's Docs location (or subtab). Each of these locations has its own set of permissions. You can get to all of your documents by first going to Clients, selecting a client's name, then navigating to the Docs tab, where you will see all three locations:
Private: Private files are visible only to you and to any team member assigned to the client it belongs to. (For more information on how to set up team permissions and access rights, see User Access Rights.) The Private location is where you can safely store drafts; reference materials for tax preparation; proprietary spreadsheets, such as Proseries or Lacerte files; a client's firm-prepared documents; or any documents that do not need to be seen by the client.

Public: Documents you want to share with a client are stored in the Public location (or subtab). These are visible to the client. When uploading to Public, you can notify them when a document has been uploaded, lock the document to an unpaid bill (the client can see the document but won't be able to download it until a payment is made) and/or request the client account's approval. Clients can't delete Public documents.

Client's Docs: All documents uploaded to TaxDome whether by the client or by you on their behalf, are stored in Client's Docs. These documents are visible to the client. Clients can delete these documents or move them to different folders.


Within each silo, there is an Unsorted folder. All silos should also contain year folders. They can be added either manually or using the folder templates. You can upload files to any Unsorted or year folder. However, you cannot create folders inside a top-level silo that is not a year or unsorted folder (see the example below)

Uploading Documents
Documents can be uploaded by a firm owner and by a team member who has granted the Manage documents permission.
Files can be uploaded to TaxDome using any one of three options:
To upload a document to TaxDome with the + NEW button:
1. Click + NEW on the left sidebar, select Document, find the name of the client account whose document you're uploading. You'll see a list containing your five most recent client accounts. If the one you're looking for does not appear here, type their name, ID, or email into the search field.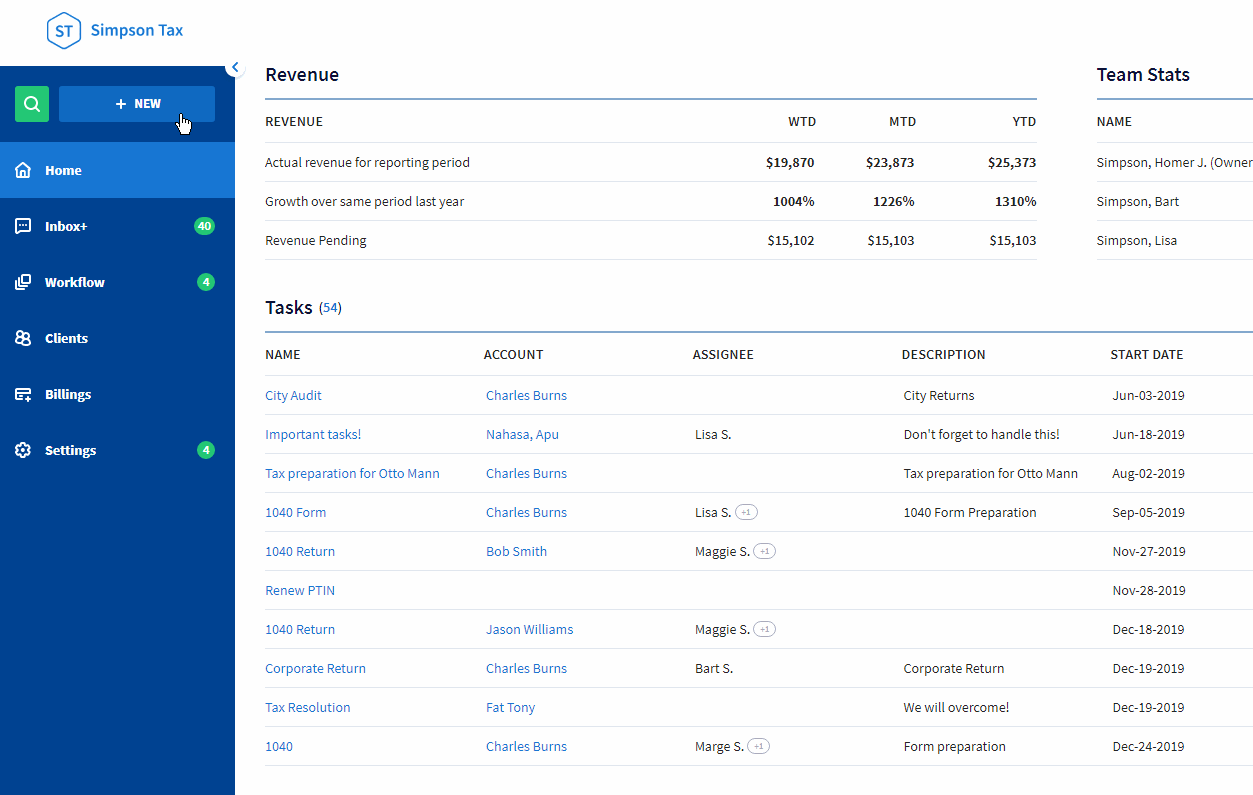 2. You'll see a tree view of all the documents for that client's account. You have two options of ways to upload here:
Drag-and-drop the files to the TaxDome folder of your choice.
Click the document upload button to the right of the year folder or subfolder of your choice, then locate the file on your computer and select it.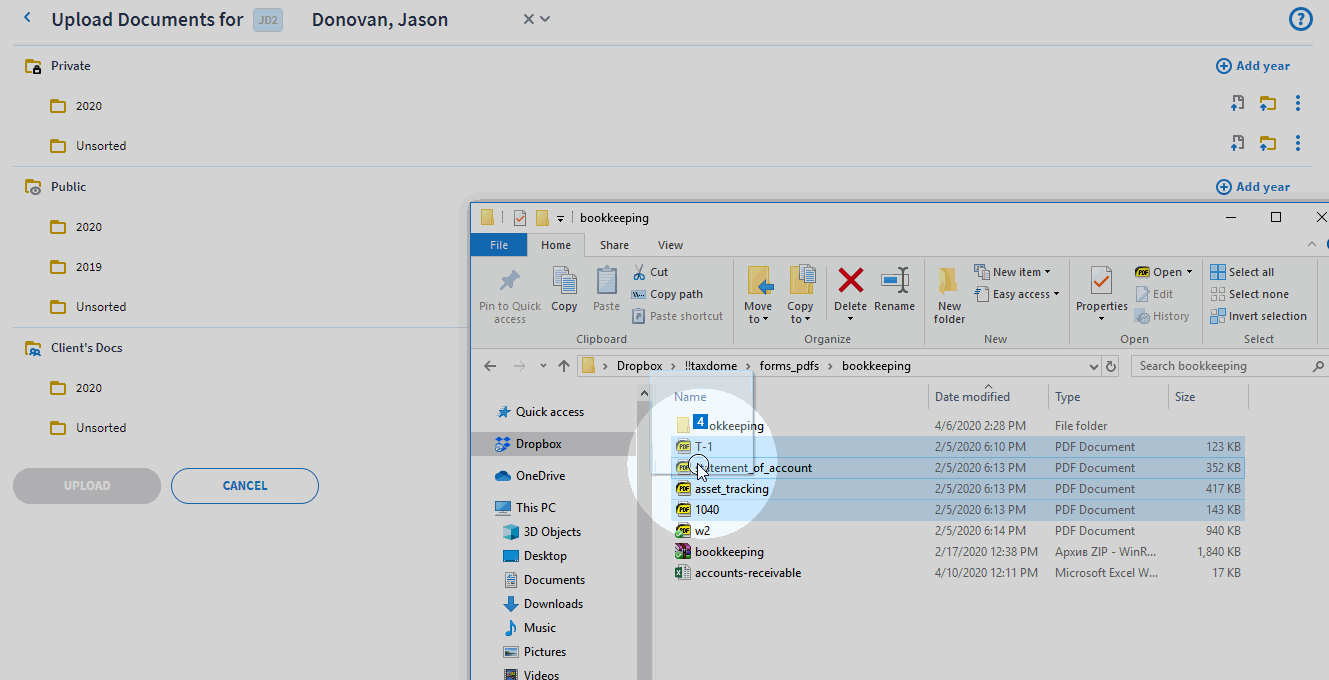 See Permitted file types to find out more about file types that are recognized. With all types, the maximum upload size is 100 Mb.
3. If a particular year does not appear in the list, it means the account hasn't yet submitted documents for that year yet. You can add the year by clicking on the Add Year link to the right of the location of your choice.

4. Add as many files to different locations (Private, Public, or Client's Docs) as you like. You can rename or delete any files from the tree view.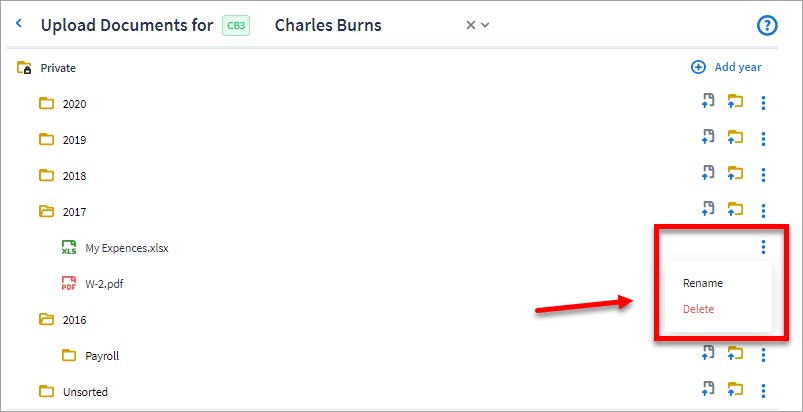 5. Click UPLOAD to add the documents to TaxDome.
Note that if you'll try to leave the Upload Documents page without clicking on UPLOAD button, we will warn you. Click Cancel in the alert pop-up, then upload your documents. Please do not select Prevent this page from creating additional dialogs checkbox, otherwise, you will not be able to receive such alerts in the future.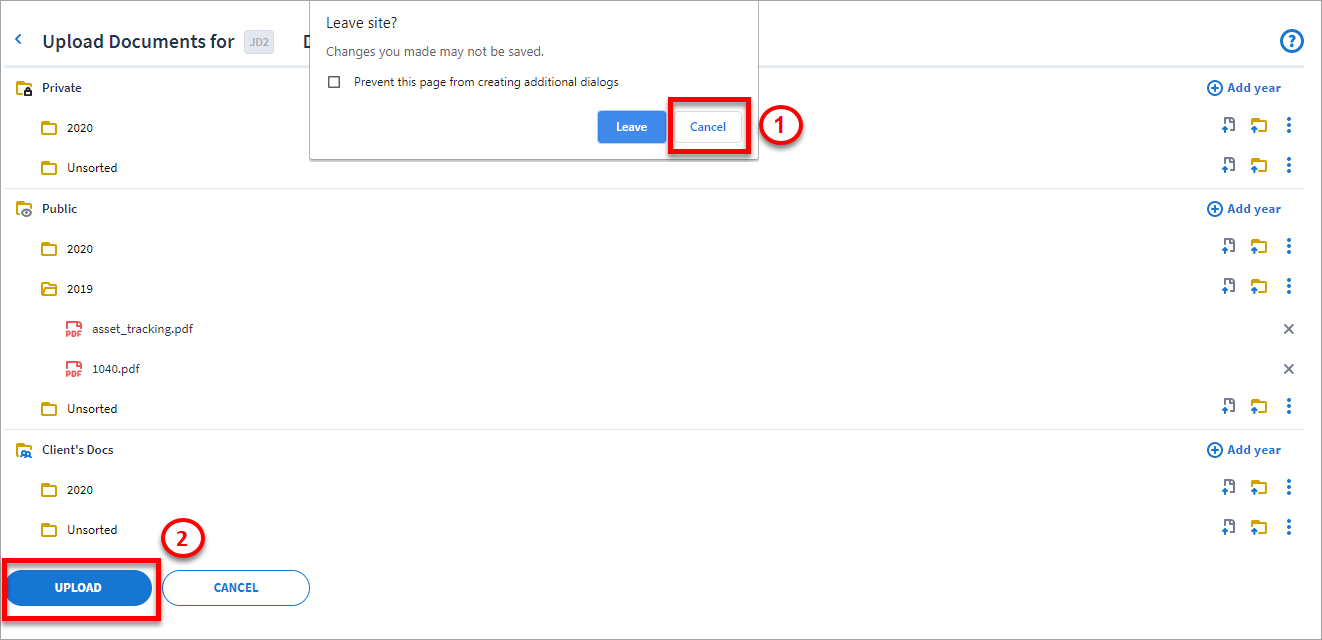 Additional Options When Uploading to Public
If at least one of the files you want to upload was placed in the Public location, you'll see a notification after you've clicked the UPLOAD button. You'll then have two choices:
JUST UPLOAD: The files will be instantly uploaded, and the client will not be notified about it. You can access additional options later via editing a document.
EDIT & UPLOAD:This gives you access to additional options. You can:

lock documents to bills
request a client's approval
turn on notifications so that the client receives an email about the upload
turn on email and Inbox+ notification when client opens document for the first time.
If you want to make any of these changes, click EDIT & UPLOAD, then follow the steps below: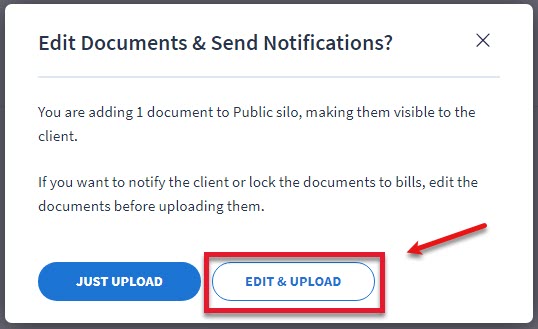 1. Edit the file name (optional) and add a description about it (up to 150 characters).
2. You can turn on Lock this document to an unpaid bill to ensure that your firm receives a payment for the work. When this option is enabled, the document will be visible to the client account but not available for download until the bill for it has been paid. Once it has, the document will automatically unlock.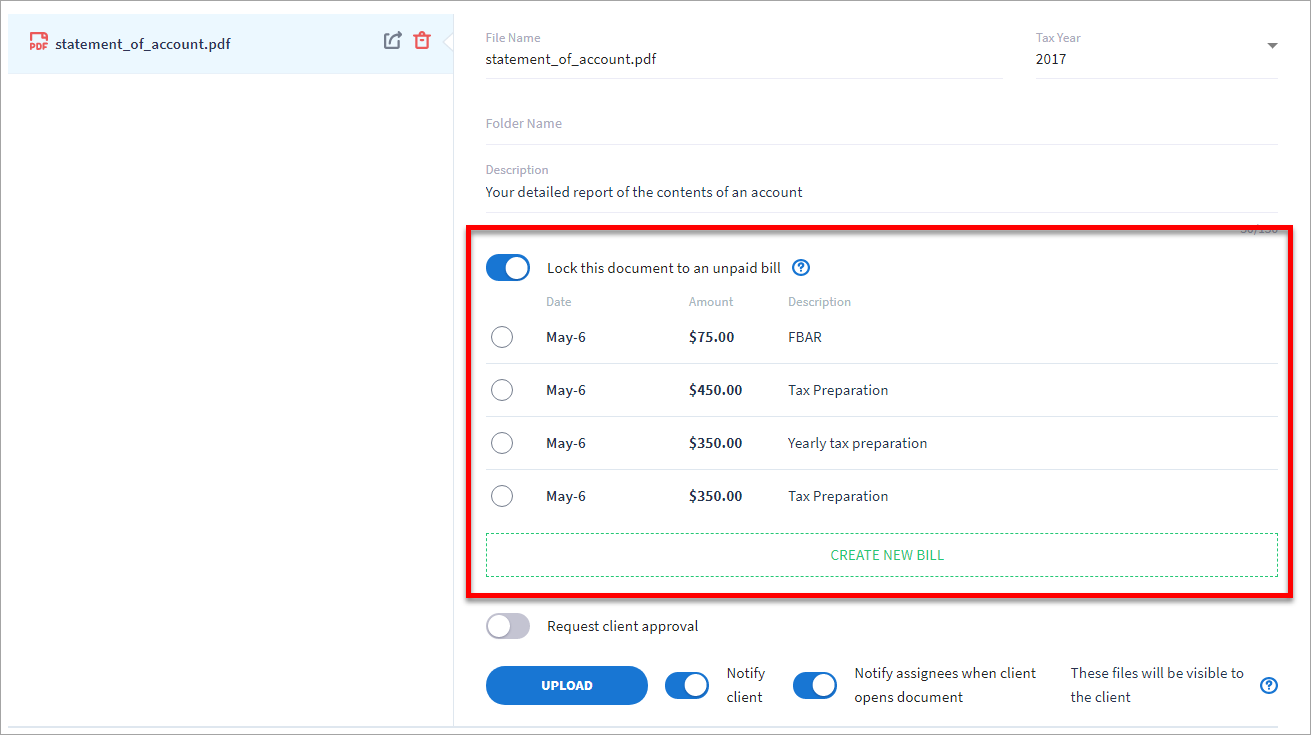 3. You can also turn on Request client account approval. Enabling this allows you to make sure the client is satisfied with your work or needs you to make any changes.

4. Your client will automatically receive an email notification that a file has been published. If you don't want a notification to be sent to them, turn off Notify client by clicking on the toggle so that it becomes grayed out.

5. If you want to receive an email and Inbox+ notification when client views document for the first time, turn on Notify assignees when client opens document toggle. If turned on, all team members assigned to a client, will receive a notification.
Note: You can change notification preferences if you need to.

6. If you are uploading several files to Public, click Next File to begin adding the details and settings for the next one you upload. You can also click on the file name in the list.
7. Click UPLOAD or UPLOAD ALL.
Uploading Folders
Uploading entire folders is the same as uploading all the files inside it one by one, but much less time-consuming. To add all the files from a folder, click +New in the left sidebar, go to Documents, find the client account, then either:
Drag-and-drop the local folder(s) to the TaxDome folder of your choice, OR

C

lick the folder

upload icon

to the right of the year folder or subfolder of your choice

, then choose the desired local folder.

Click UPLOAD to add all the documents from a folder to TaxDome.
Please note the following about uploading folders:
TaxDome processes all files in your selected folder as well as in all subfolders.

File types that are not recognized will not upload.

Your original folder structure will carry over.

If you need to upload several folders at once, drag-and-drop.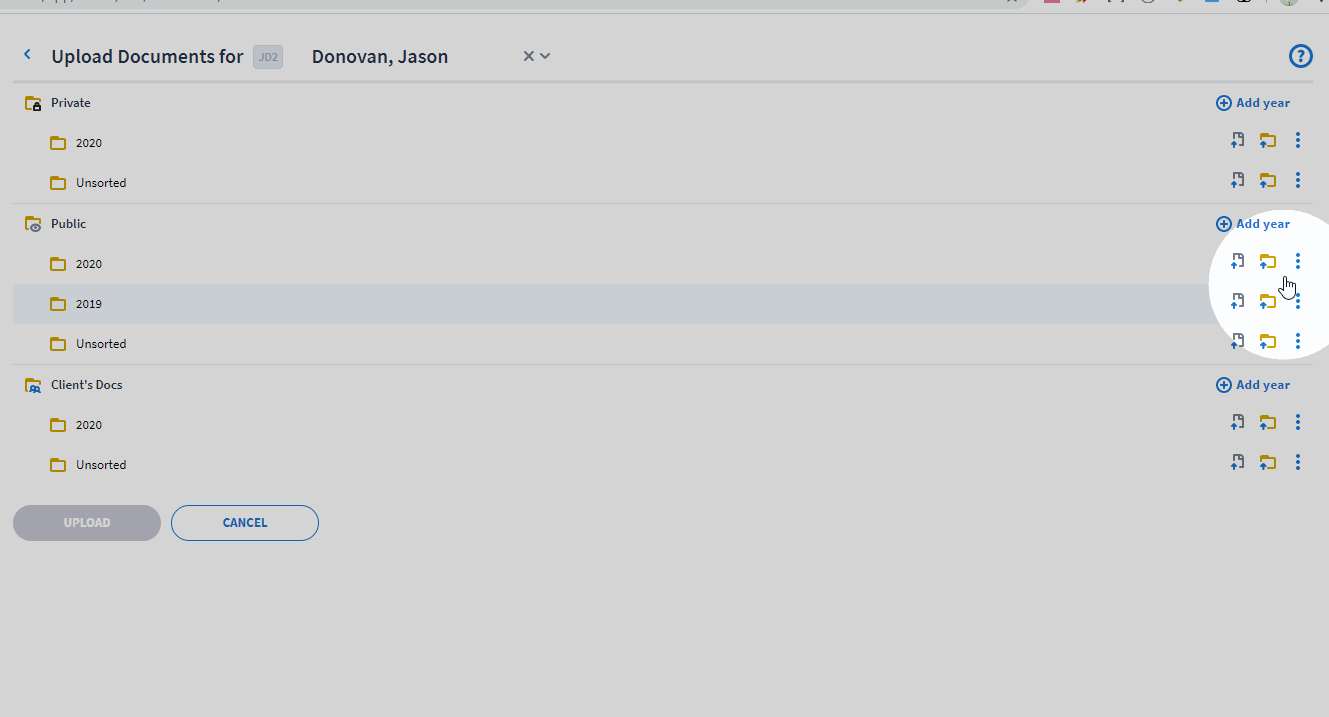 Uploading Zip Archives
Another way to upload multiple files quickly is by using a zip archive that contains multiple documents. TaxDome can upload zip files of up to 100 Mb. Uploading a zip archive is the same as uploading all the files inside it individually but less time-consuming.
Zip files are uploaded the same as other files. However, once a zip file is uploaded, TaxDome handles it differently:
The zip file is automatically unzipped.

File types that are not recognized will not upload.

Folders on the zip will not replicate on TaxDome, so you'll need to create new folders on TaxDome to organize your files.

The original zip archive that you uploaded is deleted.

When uploading to Public, you'll be able to provide details for each unpacked file.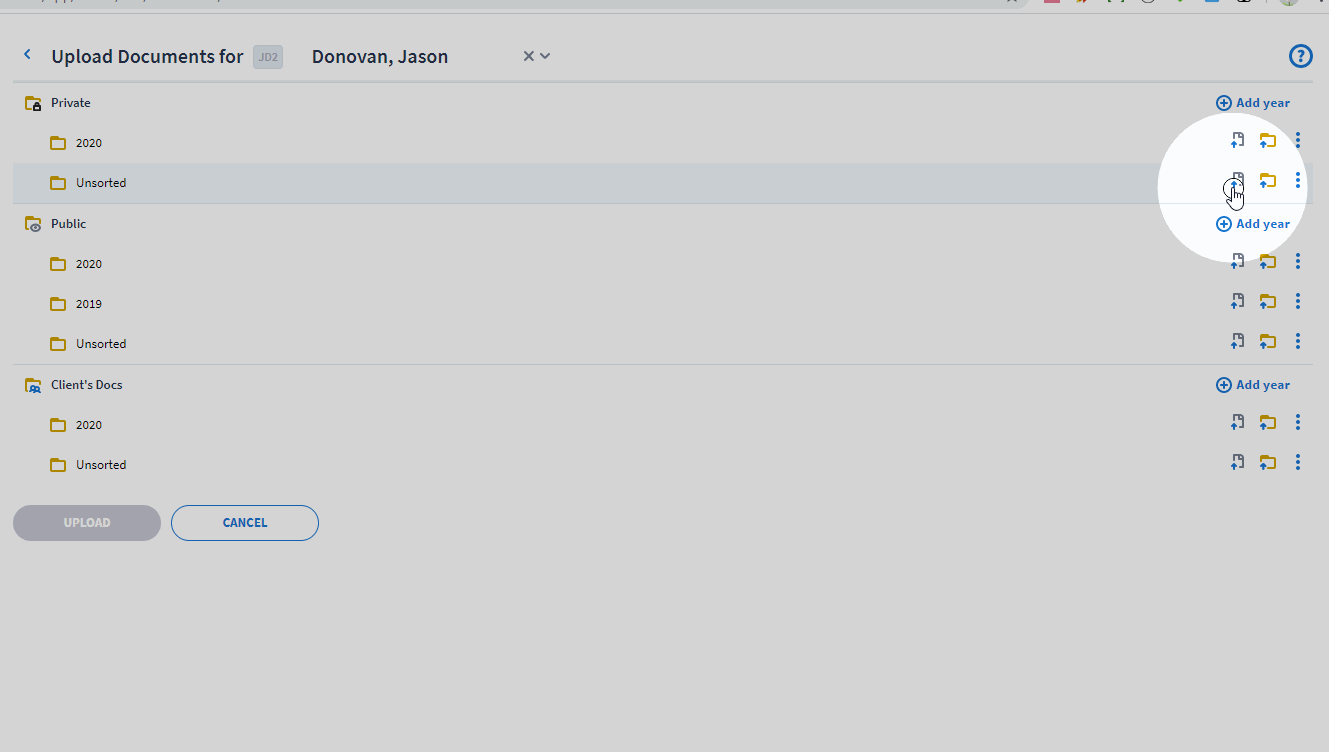 Changing a Client's Name While Uploading
Usually, you select the client's name before selecting the files you are about to upload. However, you might have the wrong client:
If you clicked + NEW button and then selected Document while inside a client's profile, you probably are looking to upload a document for that client. The next step would be to upload their document.

However, if the document is for someone else, you can still choose another name once the Upload Documents screen comes up:
You can still choose another client's name once the Upload Document screen comes up:
1. Click the client's name at the top of the window. You'll see a list containing your five most recent clients. If the one you need does not appear here, type their name, ID, or email into the search field.
2. Click the CHANGE CLIENT button.
Please note: Changing a client's name will clear all fields. You will need to locate the files on your computer and select them again.
What Your Client Sees When You Send Them Documents
Your client can access the documents you've moved to Public by either going to Documents, then Firm Prepared Documents on their portal or by clicking the link sent to them in the automatic email notification.
You can see a read-only view of client's account portal to experience TaxDome from their side.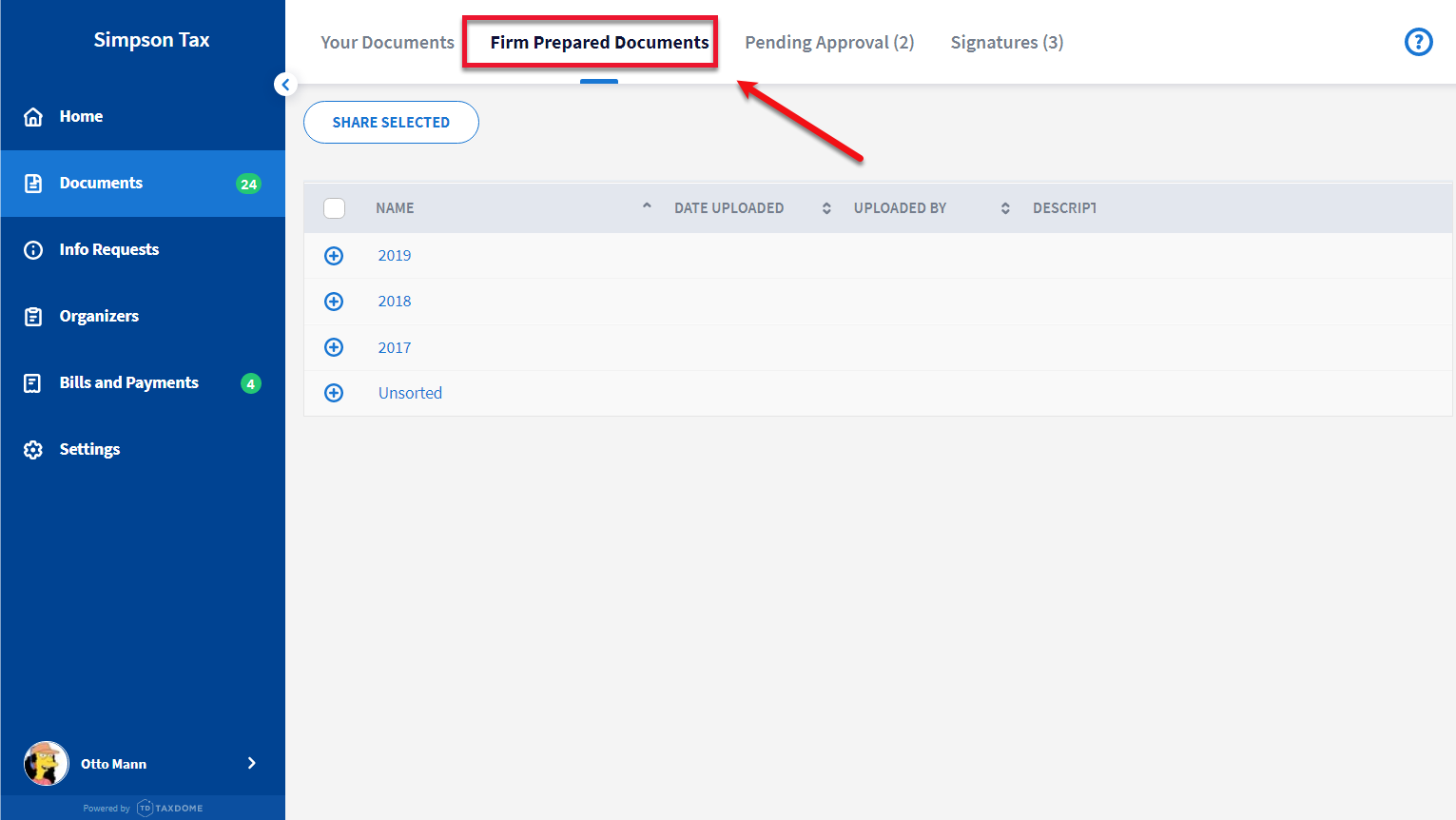 Did this answer your question?