Managing Your Documents
Managing Your Documents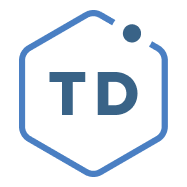 By Mary Cooper
updated 9 days ago
TaxDome features an easy-to-use dashboard that displays all of the documents that pertain to each of your clients. So instead of spending precious time trying to find documents from different years, you can get started working right away.
Covered here:
Overview: Your Documents
On TaxDome, documents are stored in three places: They go either in the Private, Public, or Client's Docs location (or subtab).
Private: These files are visible only to you and to any team member assigned to them. If you want your clients to have access to them, you will have to move them to either the Public or Client's Docs location (or subtab).

You can also drag-and-drop files directly into a folder on your desktop using our mapped drive. This allows you to bulk upload multiple files at once into a desired client account. If you decide to publish the files, you must place them in either the Public or Client Doc's folder, which will make them visible to the client (see below).

Public: All files that a firm has prepared for a client account go here. Clients can't delete Public documents or move them to another folder.

Client's Docs: All files that have been uploaded by your client accounts or uploaded by a member of your firm on behalf of a client go here. Accounts can delete these documents or move them to another folder.Under the Private, Public, and Client's Docs subtabs, you'll find the following information about each document:

Name: The document's title. An icon showing the document's file type will appear next to its name.

Date: The date that the document was uploaded. Documents are grouped by year.

Uploaded by (available for the files in Public and Private locations): The name of the team member who uploaded the file.

Description: A description of the content of the document if one was added when it was uploaded (optional).

Status (available for the files in Public location): The statuses of your documents help manage and organize them. Statuses are color-coded for quick recognition. Thanks to the statuses, you can quickly identify documents that are pending approval, approved, disapproved, pending payment, prepared for signature, pending signature, signed, or the ones for which a signature was declined. If a document has more than one status, only the first one will be visible in the list. Hover your mouse to the bubble icon with a number on it to see other statuses.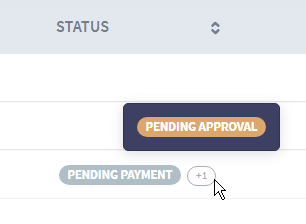 Making Documents Visible to a Client Account
Documents uploaded to TaxDome are not visible to the client account until you decide to make them public. To do so, you must publish them. You have two options when publishing:


How Do I Know That a Client Has Uploaded a Document?
Once your client account uploaded a document, you'll receive a notification by email. You also will get a notification in your Inbox+. Click the document link to view it. Click Go to... link to navigate to account uploaded documents.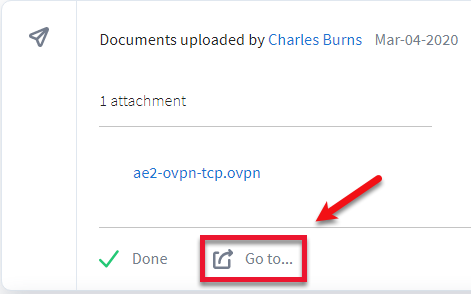 Previewing a Document
You can preview the files by using TaxDome's built-in document viewer.

Either click on the document name or the eye icon to view it. If PDF orientation is wrong, you can easily rotate it clockwise by using the arrow button.

While viewing the document, you can also choose to download it, move it to another folder, delete it, or view its audit trail. Click the three dots icon in the upper right corner to get access to these options.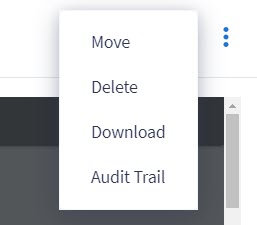 Click Close to return to the list of files.
Viewing a Documents History (or File Audit Trail)
You can always see the events that have taken place with any document stored in Public or Client's Docs section. TaxDome's audit log allows you to find out when someone uploaded, viewed, downloaded, signed, renamed, approved, or disapproved a document. This feature also lets you know if a client account opted out of using TaxDome's e-signature verification system.
To view a document's history, click on the three dots icon to the far right of the document's name, then click Audit Trail.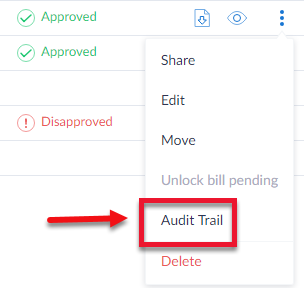 You can also access the Audit Trail link from the document viewer.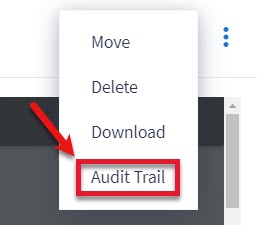 In the Audit Trail window, you'll find the following information about a document's history:
ACCOUNT NAME: The organization's (for nonpersonal accounts) or client account.

USER: The first name, last name, and email address of any user who has accessed the file.

EVENT: An event that took place with a file.

SERVER TIME: The time that the event took place on TaxDome. The time is shown in UTC.

CLIENT TIME: The time in the user's location when the event took place. The difference between UTC and the user's location time is also displayed.

IP ADDRESS: The IP address of the user who accessed the file, as well as the city and country they are located in.

BROWSER: The browser used when the event took place.



Downloading a Document
When you need to download a file, follow these steps:
1. To download it to your computer or handheld device, click on the download icon.

You can also access the Download link from the document viewer.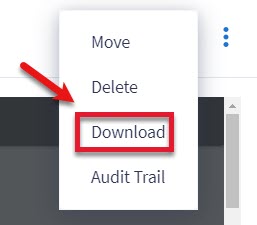 2. When prompted, choose the location you would like to save the file to, then click Save.
3. When the download finishes, click on the file name of the downloaded document to open it (for more, go to How to specify where files are downloaded).
Deleting a Document
To remove a document from TaxDome:
1. Select the checkbox next to the required document(s), then click the DELETE SELECTED button. To select all documents, select the checkbox at the top of the table.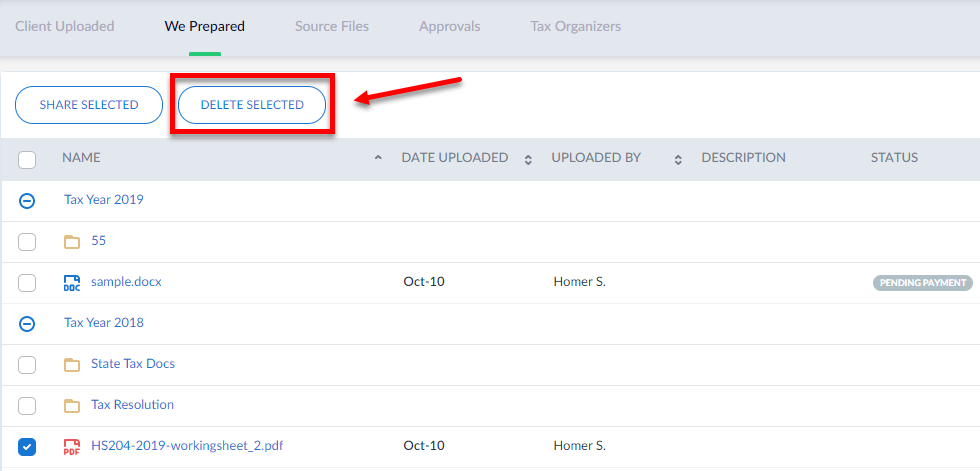 You can also access the Delete link from the document viewer.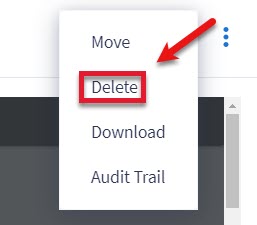 2. Click the DELETE button in the Document Delete Confirmation pop-up.

Editing a Document
To make any changes to a document, click on the three dots icon to the far right of the document's name, then click Edit.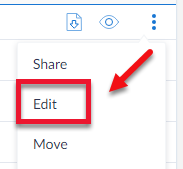 You can change the file's name, description, year, and so on. For public documents, you can also turn on/off Request client account approval and/or Lock this document to an unpaid bill options.
Searching for a Document
To search for a document, type all or part of the document's title into the search field, then click Enter.
The document list will be narrowed to your specified parameters. Click the cross icon in the Search field to clear it.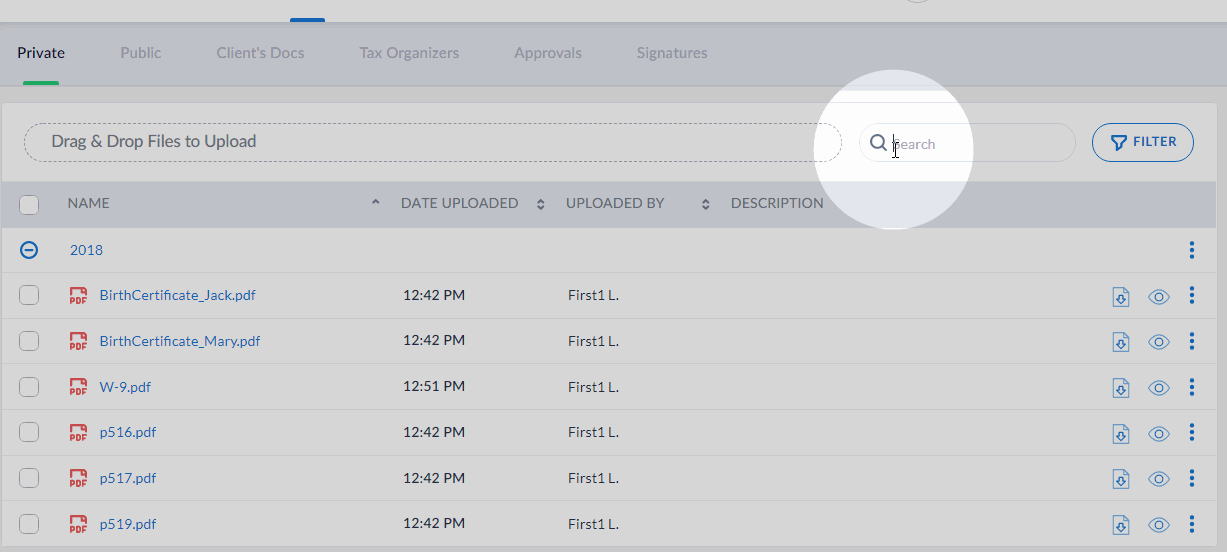 Please note: You can search for documents from the sidebar. This is useful when you're not already in a particular client's account. The search field in the sidebar looks through all the files on TaxDome so that you can quickly find what you need.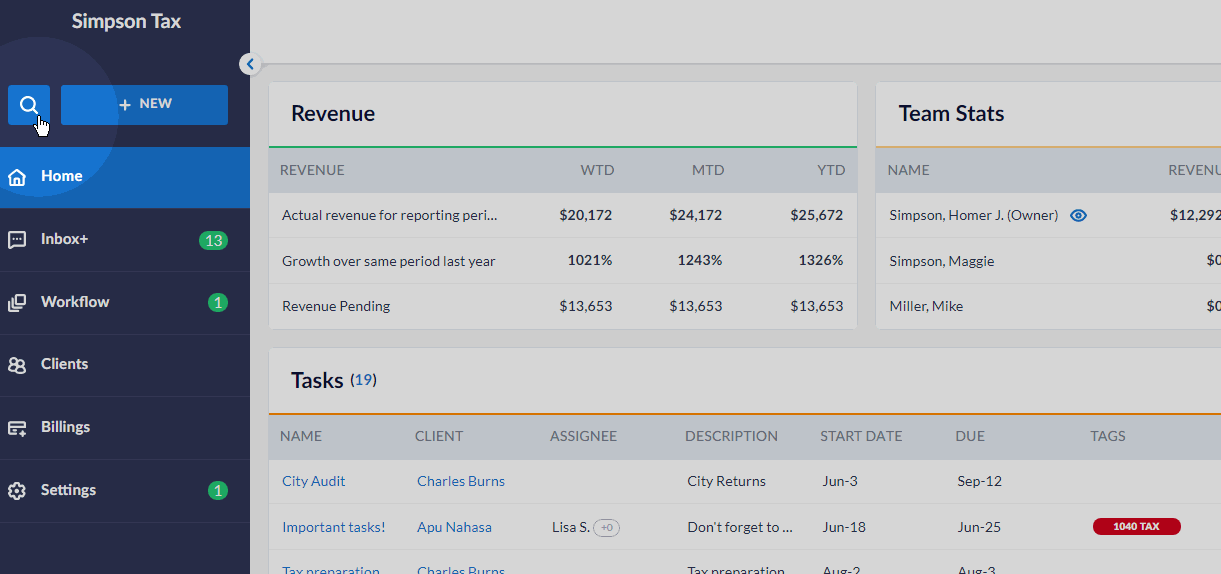 Filtering Documents
Filters help you find documents that meet a specific criteria. For example, you can select two filters so that you acquire a list of all of your Excel files uploaded in 2017.
To filter a list of documents:
1. Click on the FILTER button.
2. Narrow the list of documents you are searching for by selecting from the Year and/or File Type filters. You can apply a single filter or more than one, depending on what you wish to find.
3. Click APPLY.
The list of documents will be narrowed to your specified parameters.

Sorting a List of Documents
Sorting will order a list, so it is a useful tool to search for and view documents. You can sort a list after you've applied filters to narrow it. When you sort a list by document name, you place it in alphabetical order. When you sort it by date, you place it in order of most recent document to least or vice versa.
Click on the up-down arrow icon to the right of the Name, Uploaded By, or Date Uploaded headings to sort your list of documents. For documents in the Public section, you can also sort by document status.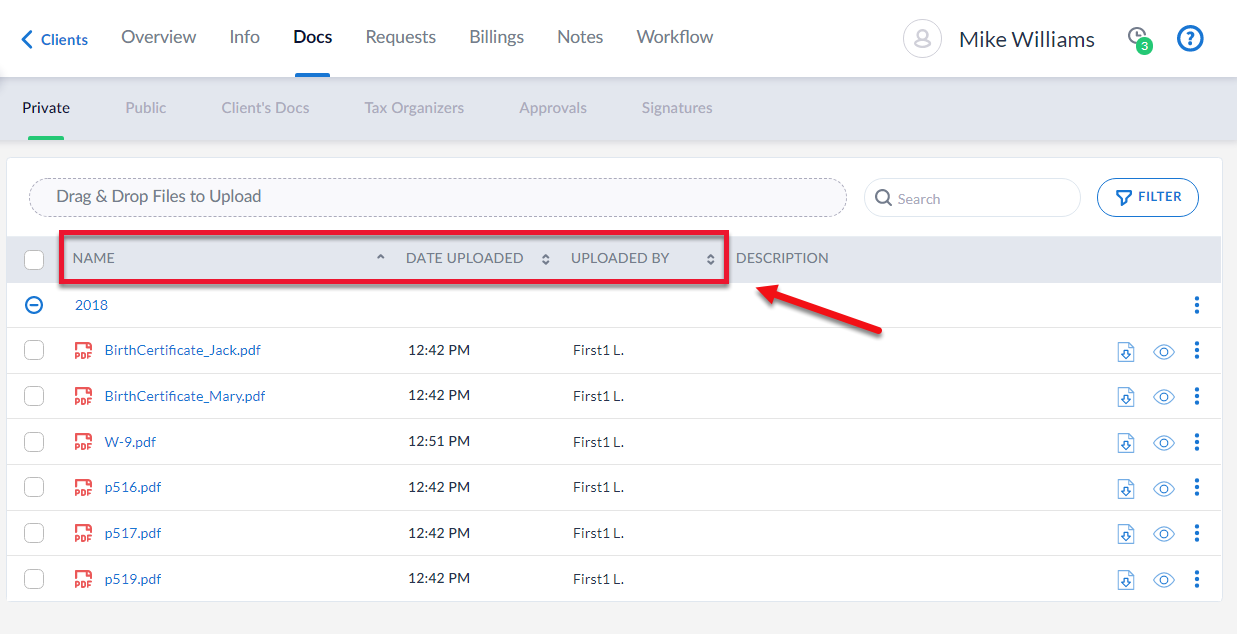 Did this answer your question?